Richard H. Thaler, Cass R. Sunstein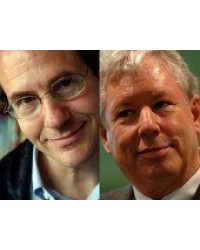 Richard H. Thaler (born September 12, 1945) is an American economist and the Ralph and Dorothy Keller Distinguished Service Professor of Behavioral Science and Economics at the University of Chicago Booth School of Business.
He is perhaps best known as a theorist in behavioral finance, and for his collaboration with Daniel Kahneman and others in further defining that field.
Thaler has written a number of books intended for a lay reader on the subject of behavioral finance, including Quasi-rational Economics and The Winner's Curse, the latter of which contains many of his Anomalies columns revised and adapted for a popular audience. His leitmotif is that market-based approaches are incomplete: he is quoted as saying "conventional economics assumes that people are highly-rational – super-rational – and unemotional. They can calculate like a computer and have no self-control problems."
Thaler is coauthor, with Cass Sunstein, of Nudge: Improving Decisions About Health, Wealth, and Happiness (Yale University Press, 2008). Nudge discusses how public and private organizations can help people make better choices in their daily lives. "People often make poor choices – and look back at them with bafflement!" Thaler and Sunstein write. "We do this because as human beings, we all are susceptible to a wide array of routine biases that can lead to an equally wide array of embarrassing blunders in education, personal finance, health care, mortgages and credit cards, happiness, and even the planet itself." Thaler and his co-author coined the term choice architect.
---
Cass Robert Sunstein FBA (born September 21, 1954) is an American legal scholar, particularly in the fields of constitutional law, administrative law, environmental law, and law and behavioral economics, who was the Administrator of the White House Office of Information and Regulatory Affairs in the Obama administration from 2009 to 2012. For 27 years, Sunstein taught at the University of Chicago Law School. Sunstein is the Robert Walmsley University Professor at Harvard Law School.
Studies of legal publications between 2009 and 2014 found Sunstein to be the most frequently cited American legal scholar by a wide margin, followed by Erwin Chemerinsky and Richard A. Epstein.
Sunstein was born on September 21, 1954, in Waban, Massachusetts to Marian (née Goodrich), a teacher, and Cass Richard Sunstein, a builder, both Jewish. He graduated in 1972 from Middlesex School and in 1975 with a B.A. from Harvard College, where he was a member of the varsity squash team and the Harvard Lampoon. In 1978, Sunstein received a J.D. magna cum laude from Harvard Law School, where he was executive editor of the Harvard Civil Rights-Civil Liberties Law Review and part of a winning team of the Ames Moot Court Competition. He served as a law clerk first for Justice Benjamin Kaplan of the Massachusetts Supreme Judicial Court (1978–1979) and later for Justice Thurgood Marshall of the United States Supreme Court (1979–1980).
---
Showing 1 to 1 of 1 (1 Pages)