Jon Kabat-Zinn, Mark Williams, John Teasdale, Zindel Segal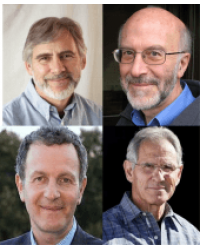 Jon Kabat-Zinn (born Jon Kabat, June 5, 1944) is Professor of Medicine Emeritus and creator of the Stress Reduction Clinic and the Center for Mindfulness in Medicine, Health Care, and Society at the University of Massachusetts Medical School.
Kabat-Zinn was a student of Buddhist teachers such as Thich Nhat Hanh and Zen Master Seung Sahn and a founding member of Cambridge Zen Center. His practice of yoga and studies with Buddhist teachers led him to integrate their teachings with scientific findings. He teaches mindfulness, which he says can help people cope with stress, anxiety, pain, and illness.
The stress reduction program created by Kabat-Zinn, mindfulness-based stress reduction (MBSR), is offered by medical centers, hospitals, and health maintenance organizations.
---
Mark Williams, D Phil, is a Professor of Clinical Psychology and Wellcome Principal Research Fellow at the University of Oxford. He holds a joint appointment in the Department of Psychiatry and the Department of Experimental Psychology. He has held previous posts at the University of Newcastle upon Tyne, the Medical Research Council Applied Psychology Unit (now Cognition and Brain Sciences Unit) in Cambridge and the University of Wales Bangor, where he founded the Institute for Medical and Social Care Research and the Centre for Mindfulness Research and Practice. He is a Fellow of the British Psychological Society, the Academy of Medical Sciences and the British Academy. He was educated at Stockton Grammar School, Stockton-on-Tees, and at St Peter's College, Oxford.
His research is concerned with psychological models and treatment of depression and suicidal behaviour, particularly the application of experimental cognitive psychology to understanding the processes that increase risk of suicidal behaviour in depression. With colleagues John D. Teasdale (Cambridge) and Zindel Segal (Toronto) he developed Mindfulness-based Cognitive Therapy (MBCT) for prevention of relapse and recurrence in depression, and two RCTs have now found that MBCT halves the recurrence rate in those who have suffered three or more previous episodes of major depression. His current research focuses on whether a similar approach can help prevent suicidal ideation and behaviour. His articles also focus on how autobiographical memory biases and deficits affect current and future vulnerability.
---
Dr. John Teasdale has worked as a research scientist, funded by the Medical Research Council, first in the Department of Psychiatry, University of Oxford, then in the Cognition and Brain Sciences Unit, Cambridge. His research has investigated basic psychological processes and the application of that understanding to the relief of emotional disorders. For many years, this research involved the exploration of cognitive approaches to understanding and treating major depression, and he was one of the pioneers of cognitive therapy research in the United Kingdom. More recently, the findings of earlier research have been applied to the development and evaluation of mindfulness-based cognitive therapy. Among the books he has authored are Affect, Cognition, and Change and Mindfulness-based Cognitive Therapy for Depression: A new approach for preventing relapse. He has received a Distinguished Scientist Award from the American Psychological Association, and has been elected Fellow of both the British Academy and the Academy of Medical Sciences. He is currently retired, pursuing personal interests in practicing and teaching meditation and mindfulness training.
---
Zindel V. Segal (born 1956 in Lutsk, Ukraine) is a cognitive psychologist, a specialist on depression and one of the founders of Mindfulness-based Cognitive Therapy (MBCT).
A professor of psychology at University of Toronto, Segal combines mindfulness with conventional cognitive behavioral therapy, which teaches patients to develop a different relationship to sadness or unhappiness by observing and without judgment. Presently he is Distinguished Professor of Psychology in Mood Disorders in the Department of Psychology at the University of Toronto Scarborough. He is also the Director of Clinical Training in the Graduate Department of Clinical Psychological Science.
When he first started working on the mindfulness-based cognitive therapy (MBCT) project, he was studying how depression alters a person's self-image. His research included measuring a depressed patient's self-image by calculating the time it took her to react to positive or negative information about her. David Kupfer, who was head of the Psychobiologyof Depression Research Network of the John D. and Catherine T. MacArthur Foundation, asked Segal to create a "maintenance" version of cognitive therapy which could be used to fight depression relapse after one had recovered from an acute episode. This need for a new therapy became Zindel Segal's new passion. He is the author of Mindfulness-Based Cognitive Therapy for Depression.
His research has helped to characterize psychological markers of relapse vulnerability to affective disorder. Among the books he has authored are Interpersonal Process in Cognitive Therapy, Cognitive Vulnerability to Depression, and Mindfulness-Based Cognitive Therapy for Depression: A new approach for preventing relapse. A Founding Fellow of the Academy of Cognitive Therapy, he was awarded the Douglas Utting Prize for significant contributions to the understanding and treatment of depression and the Hope Award by the Mood Disorders Association of Ontario. He continues to advocate for the relevance of mindfulness-based clinical care in psychiatry and mental health.
---
Showing 1 to 1 of 1 (1 Pages)