Daisetsu Teitaro Suzuki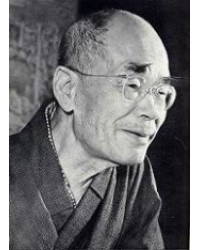 Daisetsu Teitaro Suzuki (1870–1966) was a Japanese author of books and essays on Buddhism, Zen (Chan) and Shin that were instrumental in spreading interest in both Zen and Shin (and Far Eastern philosophy in general) to the West. Suzuki was also a prolific translator of Chinese, Japanese, and Sanskrit literature. Suzuki spent several lengthy stretches teaching or lecturing at Western universities, and devoted many years to a professorship at Ōtani University, a Japanese Buddhist school.
He was nominated for the Nobel Peace Prize in 1963.
D. T. Suzuki was born Teitarō Suzuki in Honda-machi, Kanazawa, Ishikawa Prefecture, the fourth son of physician Ryojun Suzuki. The Buddhist name Daisetsu, meaning "Great Humility", the kanji of which can also mean "Greatly Clumsy", was given to him by his Zen master Soen (or Soyen) Shaku. Although his birthplace no longer exists, a humble monument marks its location (a tree with a rock at its base). The samurai class into which Suzuki was born declined with the fall of feudalism, which forced Suzuki's mother, a Jōdo Shinshū Buddhist, to raise him in impoverished circumstances after his father died. When he became old enough to reflect on his fate in being born into this situation, he began to look for answers in various forms of religion. His naturally sharp and philosophical intellect found difficulty in accepting some of the cosmologies to which he was exposed.
Suzuki studied at the University of Tokyo. Suzuki set about acquiring knowledge of Chinese, Sanskrit, Pali, and several European languages. During his student years at Tokyo University, Suzuki took up Zen practice at Engaku-ji in Kamakura.
Suzuki lived and studied several years with the scholar Paul Carus. Suzuki was introduced to Carus by Soyen Shaku (also written Soen Shaku), who met him at the World Parliament of Religions held in Chicago in 1893. Carus, who had set up residence in LaSalle, Illinois, approached Soyen Shaku to request his help in translating and preparing Eastern spiritual literature for publication in the West. Soyen Shaku instead recommended his student Suzuki for the job. Suzuki lived at Dr. Carus's home, the Hegeler Carus Mansion, and worked with him, initially in translating the classic Tao Te Ching from ancient Chinese. In Illinois, Suzuki began his early work Outlines of Mahayana Buddhism.
Carus himself had written a book offering an insight into, and overview of, Buddhism, titled The Gospel of Buddha. Soyen Shaku wrote an introduction for it, and Suzuki translated the book into Japanese. At this time, around the turn of the century, quite a number of Westerners and Asians (Carus, Soyen, and Suzuki included) were involved in the worldwide Buddhist revival that had begun slowly in the 1880s.
n 1911, Suzuki married Beatrice Erskine Lane, a Radcliffe graduate and Theosophist with multiple contacts with the Bahá'í Faith both in America and in Japan. Later Suzuki himself joined the Theosophical Society Adyar and was an active Theosophist.
---
Showing 1 to 1 of 1 (1 Pages)