Jules Verne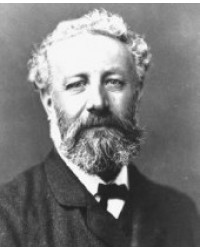 Jules Gabriel Verne (1828–1905) was a French novelist, poet, and playwright.
Verne was born in the seaport of Nantes, where he was trained to follow in his father's footsteps as a lawyer, but quit the profession early in life to write for magazines and the stage. His collaboration with the publisher Pierre-Jules Hetzel led to the creation of the Voyages extraordinaires, a widely popular series of scrupulously researched adventure novels including Journey to the Center of the Earth (1864), Twenty Thousand Leagues Under the Sea (1870), and Around the World in Eighty Days (1873).
Verne is generally considered a major literary author in France and most of Europe, where he has had a wide influence on the literary avant-garde and on surrealism. His reputation is markedly different in Anglophone regions, where he has often been labeled a writer of genre fiction or children's books, largely because of the highly abridged and altered translations in which his novels are often reprinted.
Verne has been the second most-translated author in the world since 1979, ranking between Agatha Christie and William Shakespeare. He has sometimes been called the "Father of Science Fiction", a title that has also been given to H. G. Wells and Hugo Gernsback.
Verne's father, intending that Jules follow in his footsteps as an attorney, sent him to Paris to study law. But the young Verne fell in love with literature, especially theatre. He wrote several plays, worked as secretary of the Théâtre Lyrique (1852–54), and published short stories and scientific essays in the periodical Musée des familles. In 1857 Verne married and for several years worked as a broker at the Paris Stock Market. During this period he continued to write, to do research at the Bibliothèque Nationale (National Library), and to dream of a new kind of novel—one that would combine scientific fact with adventure fiction. In September 1862 Verne met Pierre-Jules Hetzel, who agreed to publish the first of Verne's Voyages extraordinaires ("Extraordinary Journeys")—Cinq semaines en balloon(1863; Five Weeks in a Balloon). Initially serialized in Hetzel's Le Magasin d'éducation et de récréation, the novel became an international best seller, and Hetzel offered Verne a long-term contract to produce many more works of "scientific fiction." Verne subsequently quit his job at the stock marketto become a full-time writer and began what would prove to be a highly successful author-publisher collaboration that lasted for more than 40 years and resulted in more than 60 works in the popular series Voyages extraordinaires.

During the 20th century, Verne's works were translated into more than 140 languages, making him one of the world's most translated authors. A number of successful motion pictures were made from Verne novels, starting in 1916 with 20,000 Leagues Under the Sea (remade in 1954 by Walt Disney) and including The Mysterious Island (1929 and 1961), From the Earth to the Moon (1958), Journey to the Center of the Earth (1959), and, perhaps the most popular, Around the World in 80 Days (1956).
Verne's influence extends beyond literature and film into the world of science and technology, where he inspired generations of scientists, inventors, and explorers. In 1954 the United States Navy launched the world's first nuclear-powered submarine, named for Verne's Nautilus. And for more than 130 years, adventurers such as Nellie Bly (1890), Wiley Post (1933), and Steve Fossett (2005) have followed in the footsteps of Verne's fictional hero Phileas Fogg by attempting to circumnavigate the globe in record-breaking times. Verne and his enduringly popular Voyages extraordinaires continue to remind us that "What one man can imagine, another will someday be able to achieve."
---
Showing 1 to 2 of 2 (1 Pages)