Zaynep Zafer & Vikhren Chernokozhev (compilation)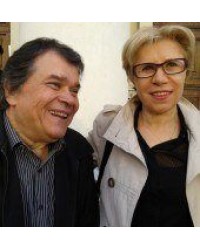 Zaynep Zafer was born in 1958 in the village of Kornitsa, Blagoevgrad. In 1973, during the so-called "Revival Process" she has been displaced with her parents by the policy of the communist regime. Barely in 1992 she was given the opportunity to graduate. She went to work at Ankara University. She was lecturer and literary historian at the Faculty of Philology. Head of the Bulgarian Language and Literature Department (since 2010). With scientific papers she has participated in over 20 international conferences. Author of a number of articles on Russian and Bulgarian literature, the theory and practice of artistic translation from Russian and Bulgarian to Turkish.
---
Vikhren Iliev Chernokozhev is a literary historian and critic, Doctor of Philology.
Born July 5, 1951 in Plovdiv. Candidate of the philological sciences (today - doctor). Associate Professor at the Institute of Literature at the Bulgarian Academy of Sciences. Deputy Director of the Institute of Literature (2000-2012). Head of Boyan Penev Publishing Center at the Institute of Literature (2002-2012). Member of the Association of Bulgarian Writers. One of the few researchers of Bulgarian literary humor and satire.
---
Showing 1 to 1 of 1 (1 Pages)