Zdeněk Klanica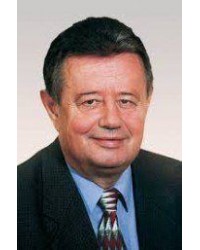 Prof. Zdeněk Klanica (1938-2014) is a popular Czech archaeologist, historian and politician.
He studied at the University of Brno, where he graduated in 1960. He works as a lecturer at the Archaeological Institute of the Czechoslovak Academy of Sciences. Between 1960 and 1990 he worked as an archaeologist for various scientific studies. He has participated in the preparation of exhibitions of Great Moravia and published several monographs for this historical period.
In the 1996 he was elected a member of the Chamber of Deputies of the Czech Parliament of the Communist Party and defended his parliamentary mandate until 1998. He worked for some time as Deputy Chairman of the Central Committee of the Communist Party.
Three decades ago during excavations in the early medieval building near the village of Mikulčice in the area of ​​Brno, where the medieval Moravian town of Velehrad was situated, a tomb of a senior cleric was discovered. Prof. Klanica defends the idea that there is buried St. Methodius. Today a monument of the Holy Brothers is erected on the site.
---
Showing 1 to 1 of 1 (1 Pages)