Vladimir Tuchkov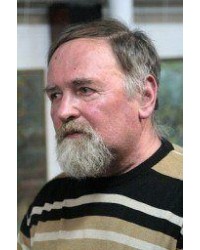 Vladimir Yakovlevich Tuchkov (born in 1949 in Mytishchi, Moscow) is a Russian poet and writer.
In 1972 he graduated from the Department of Electronics and System Engineering of the Moscow Forest Institute (now Moscow University of Forestry). For 18 years he works as a programmer at the Mytishchi Research Institute for radio devices and development of specialized computers.
He has worked as a journalist in several media, including the Soviet Circus, Democratic Russia, Evening Club, Evening Moscow and others. Since 2002 he has been an independent author. He is married, has two children and three grandchildren. His literary publications appeared in the late 80s of the last century. In 1991 he joined the Union of Writers of Russia. By the late 1980s and the early 1990s he had been a member of the Moscow Poetry Club, until the end of the club's activity. He has been translated in Bulgarian, Hungarian, German, Danish and other languages. Author of two poetic books and twelve prose books. Since 2015 he has been a member of the World PEN Club.
---
Showing 1 to 1 of 1 (1 Pages)