Violeta Decheva, Georgi Kapriev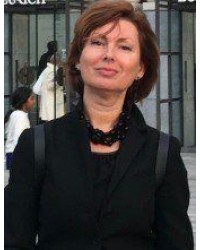 Violeta Atanasova Decheva is a professor of theater, a researcher, historian and critic.
Violeta Decheva is a Ph.D. and a Doctor of Art Studies (Sc.D.). Professor of Theater Studies at New Bulgarian University. She studied Bulgarian philology at the Sofia University "St. Kliment Ohridski" and theater science at the National Academy of Theater and Film Arts "K. Sarafov". Specializes in Freie Universität-Berlin.
Since 1994 she is a researcher at the Institute of Art Studies, BAS and guest professor at the National Academy of Theater and Film Arts (until 2001), as well as in several master programs at Sofia University "St. Kliment Ohridski" and in the European Master's Program Media Culture Communications - Viadrina University -Frankfurt, Oder University-Nice, etc. Guest professor in the Czech Republic, Germany, Poland and others. In 2007 she defended a doctorate. Since 2011 she is a Professor at the Institute of Art Studies - BAS, and since 2012 is a professor at the NBU.
Author of numerous individual and participant in collective scientific projects in Germany, Austria, Czech Republic, Hungary, Poland, Switzerland and others. Multiple DAAD scholarships. Fellow of RSS (CEU), CAS-Sofia, Landis & Gyr Stiftung and others. Participant in national and international scientific conferences. Official guest and jury at national and international theater festivals in Poland, Germany, Austria, France, the Czech Republic and many others. etc. Member of editorial boards of specialized editions for arts, culture and theater.
Scientific Interests: Theater Studies, History of Modernity, History of Culture of the 20th Century, reception of German-language drama, historical studies with a focus on theater and nationalism, theater and communism, theater and political. She writes theater criticism. She is the author of numerous books and numerous publications in Bulgaria, Germany, Poland, France, Italy, USA, Switzerland, etc.
---
Prof. Georgi Kapriev (Burgas, 1960) graduated from Sofia University "St. Kliment Ohridski ", he specialized in Cologne and Paris with the support of the DAAD Foundation, Alexander von Hummolt, Andrew Mellon. Professor of History of Philosophy at Sofia University. President of the Byzantine Philosophy Committee of the International Society for the Study of Medieval Philosophy (S.I.E.P.M.). Member of the Society for Philosophy of the Middle Ages and Renaissance (GPMR) in Germany. Member of the Institute for Medieval Philosophy and Culture (Sofia). Member of the American Semiotic Society. Co-founder of the European College of Antiquities and Medieval Philosophy (EGSAMP). Professor at the University of Cologne 2005/6. Guest lectures at the universities of Amsterdam, Bari, Berlin, Bonn, Bochum, Würzburg, Karlsruhe, Cologne, Lecce, Hannover, Zurich and others. He is the author of 17 books.

---
Showing 1 to 1 of 1 (1 Pages)