Walter Kasper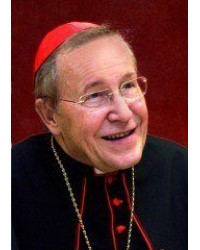 Cardinal Walter Kasper (born 5 March 1933) is a German Roman Catholic Cardinal and theologian. He is President Emeritus of the Pontifical Council for Promoting Christian Unity, having served as its president from 2001 to 2010. Since the death of Carlo Maria Martini, he has become one of the main figures of the liberal wing of the Catholic Church.
Born in Heidenheim an der Brenz, Germany, Kasper was ordained a priest on 6 April 1957 by Bishop Carl Leiprecht of Rottenburg.
From 1957 to 1958 he was a parochial vicar in Stuttgart. He returned to his studies and earned a doctorate in dogmatic theology from the University of Tübingen. He was a faculty member at Tübingen from 1958 to 1961 and worked for three years as an assistant to the conservative Leo Scheffczyk and the liberal Hans Küng, who was banned from teaching by Vatican authorities owing to his critical views on contraception and papal infallibility.
He later taught dogmatic theology at the University of Münster (1964–1970), rising to become dean of the theological faculty in 1969 and then the same in Tübingen in 1970. In 1983 Kasper taught as a visiting professor at The Catholic University of America. He was editor of the Lexikon für Theologie und Kirche.
---
Showing 1 to 2 of 2 (1 Pages)