William Peter Blatty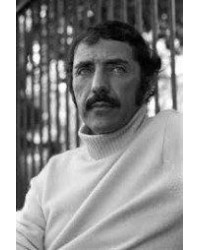 William Peter Blatty (1928–2017) was an American writer and filmmaker best known for his 1971 novel The Exorcist and for the Academy Award-winning screenplay of its film adaptation. He also wrote and directed the sequel The Exorcist III. After the success of The Exorcist, Blatty reworked Twinkle, Twinkle, "Killer" Kane! (1960) into a new novel titled The Ninth Configuration, published in 1978. Two years later, Blatty adapted the novel into a film of the same title and won Best Screenplay at the 1981 Golden Globe Awards. Some of his other notable works are the novels Elsewhere (2009), Dimiter (2010) and Crazy (2010).
Born and raised in New York City, Blatty received his bachelor's degree in English from Georgetown University in 1950, and his master's degree in English literature from the George Washington University. Following completion of his master's degree in 1954, he joined the United States Air Force, where he worked in the Psychological Warfare Division. After service in the air force, he worked for the United States Information Agency in Beirut.
Blatty was born on January 7, 1928, in New York City. He was the fifth and youngest child of Lebanese immigrants, Mary (née Mouakad), a devout Catholic and the niece of a bishop, and Peter Blatty, a cloth cutter. His parents separated when he was a toddler. He was raised in what he described as "comfortable destitution" by his deeply religious mother, whose sole support came from peddling homemade quince jelly in the streets of Manhattan; she once offered a jar of it to Franklin D. Roosevelt when the President was cutting the ribbon for the Queens–Midtown Tunnel, telling him, "For when you have company." He lived at 28 different addresses during his childhood because of nonpayment of rent. "We never lived at the same address in New York for longer than two or three months at a time," Blatty told The Washington Post in 1972. "Eviction was the order of the day." Blatty's mother died in 1967.
He attended Brooklyn Preparatory, a Jesuit school, on a scholarship and graduated as class valedictorian in 1946. He later attended Georgetown University on a scholarship, where he earned his bachelor's degree in English in 1950. Those years at Georgetown were probably the best years of my life, Blatty said in 2015. Until then, I'd never had a home. While studying for his master's degree at George Washington University, Blatty took menial jobs. Initially unable to find a job in teaching, he worked as a vacuum cleaner door-to-door salesman, a beer truck driver, and as a United Airlines ticket agent. He earned his master's in English literature from the George Washington University in 1954. He then enlisted in the United States Air Force, where he ultimately became head of the Policy Branch of the USAF Psychological Warfare Division.
---
Showing 1 to 1 of 1 (1 Pages)