William Kent Krueger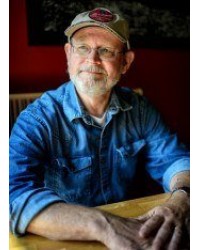 William Kent Krueger is an American author and crime writer, best known for his series of novels featuring Cork O'Connor, which are set mainly in Minnesota. In 2005 and 2006, he won back-to-back Anthony Awards for best novel. In 2014, his stand-alone book Ordinary Grace won the Edgar Award for Best Novel of 2013
Krueger has said that he wanted to be a writer from the third grade, when his story "The Walking Dictionary" was praised by his teacher and parents.
He attended Stanford University, but his academic path was cut short when he came into conflict with the university's administration during student protests of spring 1970. Throughout his early life, he supported himself by logging timber, digging ditches, working in construction, and being published as a freelance journalist; he never stopped writing.
He wrote short stories and sketches for many years, but it was not until the age of 40 that he finished the manuscript of his first novel, Iron Lake. It won the Anthony Award for Best First Novel, the Barry Award for Best First Novel, the Minnesota Book Award, and the Loft-McKnight Fiction Award.
Krueger is married and has two children. He lives in St. Paul, Minnesota.
---
Showing 1 to 1 of 1 (1 Pages)