W. W. Jacobs, A. B. Edwards, W. H. Hodgson, M. R. James, E. F.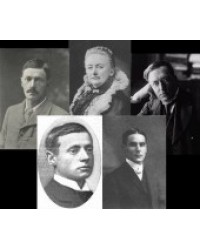 William Wymark Jacobs (1863–1943) was an English author of short stories and novels. Although much of his work was humorous, he is most famous for his horror story "The Monkey's Paw". Jacobs was born on 8 September 1863 in Wapping, London; his father was a wharf manager on the South Devon wharf at Lower East Smithfield. He was educated at a private school in London and later at Birkbeck College (then called Birkbeck Literary and Scientific Institution, now part of the University of London).
---
Amelia Ann Blanford Edwards (1831–1892), also known as Amelia B. Edwards, was an English novelist, journalist, traveller and Egyptologist. Her most successful literary works included the ghost story "The Phantom Coach" (1864), the novels Barbara's History (1864) and Lord Brackenbury (1880), and the Egyptian travelogue A Thousand Miles up the Nile (1877). In 1882, she co-founded the Egypt Exploration Fund. She also edited a poetry anthology published in 1878.
---
William Hope Hodgson (1877–1918) was an English author. He produced a large body of work, consisting of essays, short fiction, and novels, spanning several overlapping genres including horror, fantastic fiction, and science fiction. Hodgson used his experiences at sea to lend authentic detail to his short horror stories, many of which are set on the ocean, including his series of linked tales forming the "Sargasso Sea Stories". His novels, such as The House on the Borderland (1908) and The Night Land (1912), feature more cosmic themes, but several of his novels also focus on horrors associated with the sea. Early in his writing career, Hodgson dedicated effort to poetry, although few of his poems were published during his lifetime. He also attracted some notice as a photographer and achieved renown as a bodybuilder. He died in World War I at age 40.
---
Montague Rhodes James OM FBA (1862–1936), who published under the name M. R. James, was an English author, medievalist scholar and provost of King's College, Cambridge (1905–18), and of Eton College (1918–36). Though James's work as a medievalist is still highly regarded, he is best remembered for his ghost stories, which are regarded as among the best in the genre. James redefined the ghost story for the new century by abandoning many of the formal Gothic clichés of his predecessors and using more realistic contemporary settings. However, James's protagonists and plots tend to reflect his own antiquarian interests. Accordingly, he is known as the originator of the "antiquarian ghost story".
---
Edward Frederic "E. F." Benson (1867–1940) was an English novelist, biographer, memoirist, archaeologist and short story writer. Benson was educated at Temple Grove School, then at Marlborough College, where he wrote some of his earliest works and upon which he based his novel David Blaize. He continued his education at King's College, Cambridge. At Cambridge, he was a member of the Pitt Club, and later in life, he became an honorary fellow of Magdalene College.
---
Edmund Gill Swain (1861–1938) was an English cleric and author. As a chaplain of King's College, Cambridge, he was a colleague and contemporary of the scholar and author M. R. James, and a regular member of the select group to whom James delivered his famous annual Christmas Eve reading of a ghost story composed especially for the occasion. Swain collaborated with James on topical skits for amateur performance in Cambridge, but he is known best for the collection of ghost stories he published in 1912, entitled The Stoneground Ghost Tales. He also wrote a history of Peterborough Cathedral.
---
Showing 1 to 1 of 1 (1 Pages)