Toma Nikolov, Slaveia Baldeva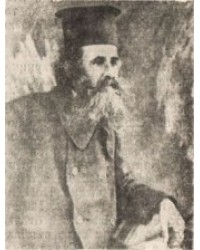 Toma Nikolov Hristov (1863-1946) was a Bulgarian revolutionary, cleric and enlightener, actor of the Bulgarian revival in Macedonia.
Toma Nikolov was born around 1863 in Kranevo village of Vraneshtitsa, then in the Ottoman Empire. He studied at The Monastery of St. Bogorodica Prečista and at the Thessalonica Bulgarian High School. He became a teacher and in 1889 he was ordained a deacon in Constantinople.
After the establishment of the Internal Macedonian-Odrin Revolutionary Organization (A revolutionary national liberation movement in the Ottoman territories in Europe, that operated in the late 19th and early 20th centuries), Toma Nikolov joined the ranks and became a close associate of Dame Gruev, Pere Toshev, Anastas Lozanchev, Pavel Hristov, Boris Sarafov and Hristo Matov. In 1896, he was appointed an exarchal vicar of Debar, then settled in Bitola, and in 1899 he became a vicar of Kichevo. He is a member of the Bitolian Revolutionary Committee and of the revolutionary committees in Kichevo and Debar.
During the First World War, he was a priest in the 5th Regiment to the 11th Infantry Macedonian Division. After the end of the Second Balkan War, he was undesirable in Macedonia and forced to leave for Bulgaria.
Slaveia Baldeva is his great-granddaughter.

---
Showing 1 to 1 of 1 (1 Pages)