Richard Wiseman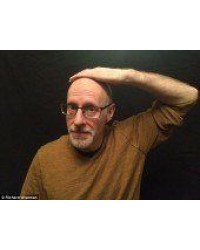 Richard J. Wiseman (born 1966) is a Professor of the Public Understanding of Psychology at the University of Hertfordshire in the United Kingdom. He has written several best-selling popular psychology books that have been translated into over 30 languages. He has given keynote addresses to The Royal Society, The Swiss Economic Forum, Google and Amazon. He is a fellow for the Committee for Skeptical Inquiry and a patron of the British Humanist Association.
Richard Wiseman was born and raised in Luton. His mother a seamstress and his father an engineer, he learned his trade as a teenage magician working the crowds in Covent Garden.
"Like most magicians I got into magic really young. You open that book when you're in the library, and go "this is for me". It happened to me at about age eight."
At 18 he continued as a street performer and went to University College London to study psychology, partly because it "was right around the corner". He shared accommodation as a student with Adrian Owen, later also to become a psychologist. In his years as a street performer, he learned how to adapt or get out of what you are doing because "Sometimes you would start your act and after five minutes there was no audience." He moved to Edinburgh where he obtained his Ph.D. in Psychology from the University of Edinburgh. He went from there to the University of Hertfordshire, becoming Britain's first professor in the Public Understanding of Psychology.
In his early years at the University of Hertfordshire, Wiseman partnered with Simon Singh on a BBC segment about lying for the National Science Week. The segment spanned TV, radio and print and featured a "politician making a statement, and letting the public vote on whether they thought this figure was telling the truth in each medium." It was the first time that Wiseman and Singh met. From the beginning, the two got along well and on Singh's idea, ended up creating a show together called Theatre of Science. The show aimed to deliver science to the audience in an entertaining manner. Wiseman describes how one stunt involved standing in a cage between two Tesla coils while lightning struck the cage. Wiseman ended up writing The Luck Factor in part due to Singh as well. With the success of Singh's book, Fermat's Last Theorem, Singh introduced Wiseman to his agent and encouraged him to write a similar book in the psychology arena, which led to насърчThe Luck Factor.
Wiseman is a professor in "public psychology" at the University of Hertfordshire who divides his time between London and Edinburgh. He's a skeptic who doesn't believe in extrasensory perception or prayer and who, as a former magician, is stunned that people fall for seances in a darkened room where every kind of trickery is available.
---
Showing 1 to 3 of 3 (1 Pages)