Plamen Tsonev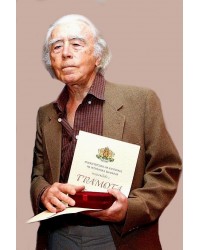 Plamen Zvezdelinov Tsonev is a Bulgarian editor, poet, fiction writer, playwright and writer.
He was born in Gorna Oryahovitsa on December 11, 1930. His father is the writer Zvezdelin Tsonev. He graduated from high school in Sofia in 1949. He worked as an editor at the State Military Publishing House in the period 1950 - 1953, in the Slaveyche magazine in the period 1955 - 1959, in a publishing house in Varna in the period 1960 - 1963, in the Bulgarian Cinematography center as a screenwriter in the period 1968 - 1970 and as deputy editor-in-chief of the publishing house Narodnaya mladezh in 1973. He was twice fired by the totalitarian power.
Together with his work he is engaged in the study of the Bulgarian coat of arms in the time of Tsar Kaloyan, the secret of Fatima, mathematical models of the Egyptian pyramids, the excavations in Perperikon, the archives of Hristo Botev, and others.
His initial works are political poems related to the brigadier movement and mankind's achievements in space. He writes many poems for children's stories. He is the author of hypothesis books involving esoteric ideas and fiction. Some of his most significant works are Orpheus, the Divine Prophet and Homo Cosmicus.
He died on January 15, 2012 in Sofia.
---
Showing 1 to 1 of 1 (1 Pages)