Petar Karchev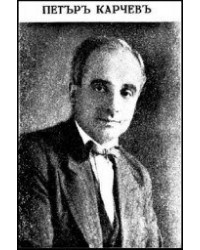 Petar Georgiev Karchev is a Bulgarian publicist and revolutionary, an actor of the Inner Macedonian Revolutionary Organization (United). Karchev is a member of the National Liberal Party and is one of the closest associates of Nikola Genadiev. He has been dealing with journalism since 1908, editor and journalist in some of the most famous newspapers in the early 20th century.
Karchev graduated from high school in his hometown and in 1902 he arrived in Bulgaria where he studied in Pleven, Vratsa (1905-1906) and at First Sofia Male High School (1906-1907). He taught for one year in the village of Zlokuchene, Pleven.
In 1908 he found work as a reporter in the organ of the National Liberal Party "Bulgarian Independence", recommended by Dimcho Debelyanov to the editor Trifon Kunev. After the closing of the newspaper at the end of the year, since September 1909 he is a teacher in the village of Rakita, Pleven and joins the National Liberal Party.
He studied Law at the Sofia University. Then works as a lawyer in Sofia and Ruse.
He acquainted with Nikola Genadiev and became his loyal associate for the rest of his life. He wrote in Volya newspaper of Simeon Radev.
In 1914, a correspondent of the organ of Macedonian Bulgarian emigrants in Granite City, USA "People's Voice" from Bulgaria was the journalist Petar Karchev, writing under the pseudonym P. Ezerski.
During the First World War in late 1917 he served in the Fourth Infantry Division of Preslav as a correspondent of the Military Notifications in Northern Dobrudja, and from the summer of 1918 in Mariovo. After the war in 1919 he became editor-in-chief of "Volya" and as such became secretary of the Central Office of the People's Liberal Party.
From the beginning of 1921, after a disagreement with Genadiev and a refusal to lead the new newspaper "Nezavisimost", part of the National Liberal Party, Karchev moved as a lawyer in Rousse. In Rousse wrote in Ratnik newspaper and edited "Svobodna Volya", a local newspaper of the National Liberal Party.
In 1930 he was arrested with Georgi Zankov in Vienna, but was released and extradited to Germany. On April 1, 1930, he took over the editing of "Nezavisimost".
He died in Sofia in 1965.

---
Showing 1 to 1 of 1 (1 Pages)