Omraam Mikhaël Aïvanhov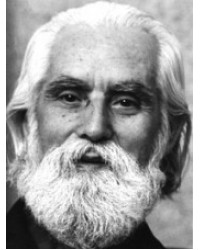 Omraam Mikhaël Aïvanhov (Mihail Ivanov) (1900–1986) was a Bulgarian philosopher, pedagogue, mystic, and esotericist. A leading 20th-century teacher of Western Esotericism in Europe, he was a disciple of Peter Deunov (Beinsa Douno), the founder of the Universal White Brotherhood.
He was born in Srpci (then in the Manastir Vilayet of the Ottoman Empire), a village in Bitola Municipality in the present-day Republic of Macedonia, to a Bulgarian family. His father, Ivan Dimitrov established a coal business and died when Aivanhov was seven years old.
His mother, Dolya was a religious woman, who dedicated her son to God since his very early childhood. Like most Bulgarians who were the predominant ethnic element in the region of Macedonia during that time, the family of Mikhail Ivanov was persecuted by the Greek army after the end of the Balkan War. They were forced to leave their home in spring, 1907 due to destruction of the village. The family finally found shelter and settled in Varna, Bulgaria. At the age of 17, after a childhood full of deprivation, he met Master Peter Deunov (1864 - 1944), the founder of the Universal White Brotherhood in the city of Varna, Bulgaria. A few months later in 1918, he followed Master Deunov to the capital, Sofia.
During the early years of his discipleship, Aivanhov was quite poor. He owned a bed, some books, a violin (given to him by Deunov) and a few shabby clothes. He spent most of his time on spiritual retreats in the mountains, where he studied and meditated, occasionally taking a job to earn his keep. Deunov also obliged him to broaden his conventional knowledge by pursuing studies at the University of Sofia, and he enrolled in courses on psychology, education philosophy, mathematics, chemistry, astronomy &amamp; medicine between 1923 and 1931. From around 1932 to around 1937, he worked as a school teacher and then a high school principal.
In 1937 with the approach of the Second World War, Peter Deunov foresaw that political unrest, war and the spread of communism would lead to a ban on all spiritual associations in Bulgaria and so he entrusted Mikhail Ivanov with bringing his teaching to France. Deunov chose Aivanhov out of 40,000 other students.
On July 22, 1937, he arrived in France penniless, with no knowledge of French and only one contact person in France, Stella Bellemin, a Bulgarian expatriate. However, Aivanhov turned out to be an excellent linguist. He took no money from his students or charged for his lectures apart from one exception when touring America. The money was banked and used later for a publishing project. On January 29, 1938, he gave his first public talk in the Luxembourg Hall, Place de la Sorbonne. This was the first of over 5000 conferences. In 1944 he published his first collection of talks. On January 21, 1948, he was arrested on a false charge and sentenced to 4 years in prison, but in March 1950 he was released.
He taught mainly in France, and he created the spiritual centers Bonfin in Fréjus, France and Izgrev, Sofia in his native Bulgaria, but also traveled a great deal. From 1938 until 1986 he gave some 4,500 talks in French, first of all in France (in Paris and its outskirts, and later at Fréjus in the Var region), and then in Switzerland (spiritual center Videlinata), Canada, the United States, India, Sweden and Norway. He also visited many other countries.
His works which include 44 pocketbooks and 32 complete works are based on his lectures, which were recorded first in shorthand and since 1960 on audio and videotape. Finally, in 1972 Prosveta Publications released several collections of these talks in the form of books and brochures (translated into 30 languages), CDs and DVDs with subtitles.
---
Showing 1 to 2 of 2 (1 Pages)