Noma Hisashi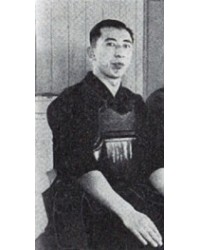 Noma Hisashi was born on 24th of April, 1919, in Tokyo. His grandfather, Mori Yozo, was a famous Bakumatsu swordsman and a senior student at the Dojo of Chiba Shusaku. His mother, who was the eldest daughter of Mori Yozo, was a skilled writer as well as an proponent of Kendo, Kusarigama and especially Naginata.
In 1924, he enrolled at the Yushinkan Dojo where he received instruction from Nakayama Hakudo Sensei. At the age of 17, he began to receive instructions from Masuda Shinsuke. In the same year, the Noma Dojo was established and Hisashi began the instruction of children. On 1st of July, 1930, aged 21, he was presented with the Kendo Seiren award by His Highness Prince Nashimoto Miyamori Maso, chairman of the Dai Nippon Butokukai. Also, Hisashi began training under Mochida Moriji at the Noma Dojo.
During 1934, he traveled to Kyoto and other parts of Kansai and Chugoku districts for special training. In September of that year, he entered and won the Army Kendo Championships. He received the trophy from Shirakawa Yoshinori, the Army Minister. On 1st of March, 1935, he was awarded the rank of Renshi. April that year was spent in Kyushu, and in May, as a Tokyo representative, he entered and won the tournament that was held before His Majesty the Emperor in honor of the birth of the Crown Prince. On 6th of July, 1937, he was awarded the rank of Kyoshi, and on the 7th of November of the same year, he passed away due to illness.
---
Showing 1 to 1 of 1 (1 Pages)