Natsume Sōseki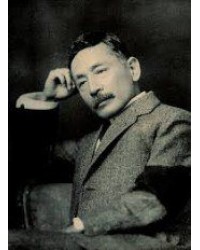 Natsume Sōseki (1867–1916), born Natsume Kinnosuke (夏目 金之助), was a Japanese novelist. He is best known for his novels Kokoro, Botchan, I Am a Cat and his unfinished work Light and Darkness. He was also a scholar of British literature and composer of haiku, kanshi, and fairy tales. From 1984 until 2004, his portrait appeared on the front of the Japanese 1000 yen note. In Japan, he is often considered the greatest writer in modern Japanese history. He has had a profound effect on almost all important Japanese writers since.
Born in 1867 as Natsume Kinnosuke in the town of Babashita in the Edo region of Ushigome (present Kikui, Shinjuku), Sōseki began his life as an unwanted child, born to his mother late in her life, forty years old and his father then fifty-three. When he was born, he already had five siblings. Having five children and a toddler had created family insecurity and was in some ways a disgrace to the Natsume family. A childless couple, Shiobara Masanosuke and his wife, adopted him in 1868 and raised him until the age of nine, when the couple divorced. He returned to his family and was welcomed by his mother although regarded as a nuisance by his father. His mother died when he was fourteen, and his two eldest brothers died in 1887, intensifying his sense of insecurity.
Sōseki attended the First Tokyo Middle School (now Hibiya High School), where he became enamored with Chinese literature, and fancied that he might someday become a writer. His desire to become an author arose when he was about fifteen when he told his older brother about his interest in literature. However, his family disapproved strongly of this course of action, and when Sōseki entered the Tokyo Imperial University in September 1884, it was with the intention of becoming an architect. Although he preferred Chinese classics, he began studying English at that time, feeling that it might prove useful to him in his future career, as English was a necessity in Japanese college.
In 1887, Sōseki met Masaoka Shiki, a friend who would give him encouragement on the path to becoming a writer, which would ultimately be his career. Shiki tutored him in the art of composing haiku. From this point on, he began signing his poems with the name Sōseki, which is a Chinese idiom meaning "stubborn". In 1890, he entered the English Literature department, and quickly mastered the English language. In 1891 he produced a translation into English of the classical work Hōjōki. Sōseki graduated in 1893, and enrolled for some time as a graduate student and part-time teacher at the Tokyo Normal School.
In 1895, Sōseki began teaching at Matsuyama Middle School in Shikoku, which became the setting of his novel Botchan. Along with fulfilling his teaching duties, Sōseki published haiku and Chinese poetry in a number of newspapers and periodicals. He resigned his post in 1896, and began teaching at the Fifth High School in Kumamoto. On June 10 of that year, he married Nakane Kyoko.
---
Showing 1 to 1 of 1 (1 Pages)