Napoleon Hill, Joseph Murphy, Dale Carnegie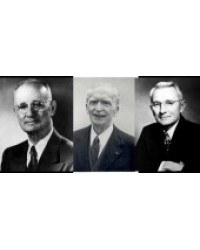 Napoleon Hill (1883-1970) was an American author in the area of the new thought movement who was one of the earliest producers of the modern genre of personal-success literature. He is widely considered to be one of the great writers on success. His most famous work, Think and Grow Rich (1937), is one of the best-selling books of all time (at the time of Hill's death in 1970, Think and Grow Rich had sold 20 million copies). Hill's works examined the power of personal beliefs, and the role they play in personal success. He became an advisor to President Franklin D. Roosevelt from 1933 to 1936. "What the mind of man can conceive and believe, it can achieve" is one of Hill's hallmark expressions. How achievement actually occurs, and a formula for it that puts success in reach of the average person, were the focal points of Hill's books.
---
Dale Harbison Carnegie (1888 –1955) was an American writer and lecturer and the developer of famous courses in self-improvement, salesmanship, corporate training, public speaking, and interpersonal skills. Born into poverty on a farm in Missouri, he was the author of How to Win Friends and Influence People (1936), a bestseller that remains popular today. He also wrote How to Stop Worrying and Start Living (1948), Lincoln the Unknown (1932), and several other books. One of the core ideas in his books is that it is possible to change other people's behavior by changing one's behavior toward them.
---
Joseph Murphy (1898 - 1981) was an Irish born, naturalised American author and New Thought minister, ordained in Divine Science and Religious Science. Murphy was born in Ireland. He joined the Jesuits. In his twenties, before being ordained a priest, an experience with healing prayer led him to leave the Jesuits and move to the United States, where he became a pharmacist in New York City (having a degree in chemistry by that time). Murphy traveled to India and spent lot of time with Indian sages, learning Hindu philosophy. He later on formed a new church in America with Hindu ideologies.
In the mid-1940s, he moved to Los Angeles, where he met Religious Science founder Ernest Holmes, and was ordained into Religious Science by Holmes in 1946, thereafter teaching at Rochester, New York, and later at the Institute of Religious Science in Los Angeles. A meeting with Divine Science Association president Erwin Gregg led to him being reordained into Divine Science, and he became the minister of the Los Angeles Divine Science Church in 1949, which he built into one of the largest New Thought congregations in the country.
---
Showing 1 to 1 of 1 (1 Pages)