Nana Narlieva, Dragomir Dardanov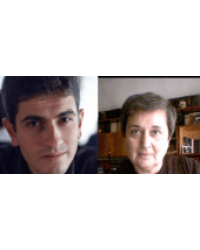 Associate Professor Dr. Nana Narlieva graduated in medicine in Sofia. After successfully passing a competitive examination in 1974, she was an assistant professor at the Department of Anatomy, Histology, and Embryology at Med. Academy - Sofia. In 1978 she was elected Senior Assistant, in 1982 as Assistant Professor, and in 1996 as Associate Professor. Since 1997 she has been working at the Department of Anatomy, Histology, and Cytology at the Higher Medical Institute - Pleven. She has been Head of the Department since 2000-2007 and has been Deputy Rector for the academic year 2000-2003.
The scientific interests of Assoc. Prof. Narmlieva are in the field of neuro-morphology. She is the author of 80 scientific publications in Bulgarian and foreign magazines and a member of several anatomical societies and international organizations. As a lecturer, she works hard to introduce modern interactive methods of anatomy training combined with traditional dissections. Assoc. Prof. Narmlieva is an author and co-author of some anatomy teaching materials, the Atlas of Cytology and Histology, two terminology anatomy guides, two collections with tests for macroscopic and microscopic anatomy examinations, and a collection devoted to the introduction of the Global Standards for Enhancement the quality of medical training and better health care.
Dragomir Dardanov, Ph.D. is a surgeon with professional interests in abdominal and general surgery, surgical oncology and clinical anatomy. He graduated in medicine in 2002, majored in Surgery in 2008. In the same year, he defended a dissertation on surgical treatment of rectal carcinoma and received the educational and scientific degree "Doctor".
He has specialized in leading clinics in Bulgaria / Oncology Hospital - Sofia, MMA, UMHAT "Dr. G. Stranski "- Pleven / and abroad (USA, Great Britain, and Japan). He has participated in a number of qualification courses, both in Bulgaria and in the Netherlands, Austria, Germany, Greece, Portugal, and others.
Winner of "Golden Hippocrates" and "Mini-Nobel Prize".
From 2012, after receiving an examination at an international commission, he is awarded the European Surgical Oncology Surgical Diploma (EBSQ Surgical Oncology).
Dr. Dardanov has an active research and teaching activity. He teaches at the Medical University - Sofia. He has worked with the Institute of Organic Chemistry, BAS concerning the development of products for the treatment of wounds and food pre- and post-operative nutrition.
He works in First Surgery of UMHAT "Alexandrovska" and 5 DCC Sofia (Students' Polyclinic).
Since 2013, he has been elected National Representative for Bulgaria at the European Society of Coloproctology (ESCP).

---
Showing 1 to 1 of 1 (1 Pages)