Michael T. Murray, Joseph E. Pizzorno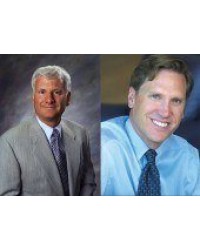 Dr. Michael T. Murray is one of the world's leading authorities on natural medicine. He has published over 30 books featuring natural approaches to health. His research into the health benefits of proper nutrition is the foundation for a best-selling line of dietary supplements from Natural Factors, where he is Director of Product Development. He is a graduate, former faculty member, and serves on the Board of Regents of Bastyr University in Seattle, Washington.

For the past thirty years, Dr. Murray has been compiling a massive database of original scientific studies from the medical literature. He has personally collected over 60,000 articles from the scientific literature, which provide strong evidence on the effectiveness of diet, vitamins, minerals, herbs, and other natural measures in the maintenance of health and the treatment of disease.
---
Dr. Joseph E. Pizzorno, N.D., appointed by President Clinton in 2000 to the White House Commission on Complementary and Alternative Medicine Policy and by President Bush to the Medicare Coverage Advisory Committee in 2002, is one of the world's leading authorities on science-based natural medicine. A naturopathic physician, educator, researcher and expert spokesperson, he is the founding president of Bastyr University. Under his leadership, Bastyr became the first accredited, multidisciplinary university of natural medicine and the first NIH-funded center for alternative medicine research.
In June 2000, Dr. Pizzorno retired after 22 years from the presidency of Bastyr University. In 1996 he was appointed to the Seattle/King County Board of Health and was a founding board member of the American Herbal Pharmacopoeia. He served as Chair of the American Public Health Association SPIG on CAM from 1999 to 2001. In 2001, he joined the Scientific Review Board of the Gateway for Cancer Research Foundation and the Institute for Functional Medicine Board of Directors (where he now serves as Treasurer). In 2002, he became the founding editor-in-chief of Integrative Medicine: A Clinician's Journal, the most widely distributed peer-reviewed journal in the field. From 2007 to 2013, he served as the Integrative Medicine and Wellness expert for WebMD. He has been a licensed naturopathic physician (with prescriptive authority) in Washington State since 1975.

---
Showing 1 to 1 of 1 (1 Pages)