Mark McKergow and Helen Bailey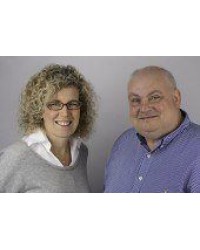 Mark McKergow is an author, consultant and speaker. Mark has developed and hosted many aspects of the international Solutions Focus community since 2000 with sfwork, and is co-author of three books including the best-selling 'The Solutions Focus'. He was closely involved with founding both the SOLWorld network and the SFCT professional body for SF consultants and trainers. Mark is also a visiting research fellow in philosophy at the University of Hertfordshire, where he runs the HESIAN research hub and investigates embodied and narrative paradigms of psychology and change. He edits the SFCT journal InterAction and also plays jazz saxophone.
---
Helen Bailey is Managing Director and Head of Coaching at North West coaching and changepany PINNA Ltd. Helen comes from a highly successful career as a Senior Manager with The Royal Bank of Scotland Group. She pursued her interest in performance improvement through coaching, undertaking a coaching qualification and now works with a wide range of organisations in the public and private sector, facilitating coaching and leadership development programmes and coaching directors and managers. Helen works collaboratively with clients to understand their challenges and identify and implement solutions to bring about change. 2010 saw Helen complete the next stage of her own personal development, achieving a distinction in a Masters degree in Developing Professional Practice where her research interest was collaboration.
Together they invite you to learn, use and share work about hosting – a vital skill for bringing people together to face complex collective problems. Hosting is distinct from both the old (hero) paradigm and also the newer (servant-leadership) work.
---
Showing 1 to 1 of 1 (1 Pages)