Li Bai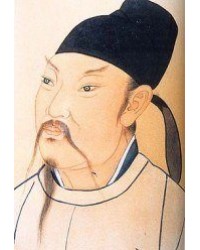 Li Bai (701–762), also known as Li Bo, Li Po and Li Taibai, was a Chinese poet acclaimed from his own day to the present as a genius and a romantic figure who took traditional poetic forms to new heights. He and his friend Du Fu (712–770) were the two most prominent figures in the flourishing of Chinese poetry in the Tang dynasty, which is often called the "Golden Age of Chinese Poetry". The expression "Three Wonders" denote Li Bai's poetry, Pei Min's swordplay, and Zhang Xu's calligraphy.
Around a thousand poems attributed to him are extant. His poems have been collected into the most important Tang dynasty poetry anthology Heyue yingling ji, compiled in 753 by Yin Fan, and thirty-four of his poems are included in the anthology Three Hundred Tang Poems, which was first published in the 18th century. In the same century, translations of his poems began to appear in Europe. The poems were models for celebrating the pleasures of friendship, the depth of nature, solitude, and the joys of drinking wine. Among the most famous are "Waking from Drunkenness on a Spring Day", "The Hard Road to Shu", and "Quiet Night Thought", which still appear in school texts in China. In the West, multilingual translations of Li's poems continue to be made. His life has even taken on a legendary aspect, including tales of drunkenness, chivalry, and the well-known fable that Li drowned when he reached from his boat to grasp the moon's reflection in the river.
Much of Li's life is reflected in his poetry: places which he visited, friends whom he saw off on journeys to distant locations perhaps never to meet again, his own dream-like imaginations embroidered with shamanic overtones, current events of which he had news, descriptions sliced from nature in a timeless moment of poetry, and so on. However, of particular importance are the changes in the times through which he lived. His early poetry took place in the context of a "golden age" of internal peace and prosperity in the Chinese empire of the Tang dynasty, under the reign of an emperor who actively promoted and participated in the arts. This all changed suddenly and shockingly, beginning with the rebellion of the general An Lushan, when all of northern China was devastated by war and famine. Li's poetry as well takes on new tones and qualities. Unlike his younger friend Du Fu, Li did not live to see the quelling of these disorders. However, much of Li's poetry has survived, retaining enduring popularity in China and elsewhere.
---
Showing 1 to 1 of 1 (1 Pages)