Ivan Hadjiiski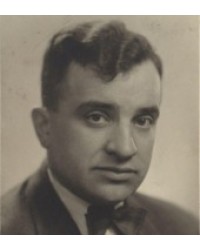 Ivan Minkov Hadjiiski is a Bulgarian publicist, social psychologist and Marxist. Before 1944 his work was interpreted by some analysts as a researcher using Gustav Lobon and Chernishevski's methods.
For ten years he has written 4 books and more than 20 studies and articles that give reason to be considered one of the founders of Bulgarian sociology. His sociological research on Bulgarian national psychology, "The Being and the Soul of our People", is considered to be his most important work.
Ivan Hadjiiski was born on 13 October 1907 in Troyan in a poor artisan family. He studied at a junior high school in his hometown, and in 1919 he published his writings in the journal "Younusha". From 1921 he studied at the Commercial School in Svishtov, which graduated in 1925. In 1923, he was briefly arrested on suspicion of murder, and in 1925 he was sentenced to one year imprisonment under the State Protection Act after passing money to a man persecuted by the authorities.
From 1927 to 1932, he studied Philosophy at Sofia University "St. Kliment Ohridski", and later he graduated. He worked as a journalist and a lawyer.
---
Showing 1 to 3 of 3 (1 Pages)