Inazō Nitobe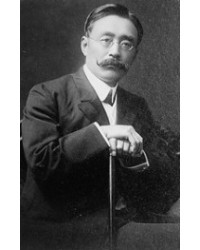 Nitobe Inazō (1862–1933) was a Japanese agricultural economist, author, educator, diplomat, politician, and Christian during the pre-World War II period.
Nitobe was born in Morioka, Mutsu Province. Nitobe was in the second class of the Sapporo Agricultural College (now Hokkaido University). In 1883 he entered Tokyo Imperial University for further studies in English literature and in economics. Disappointed by the level of research in Tokyo, he quit the university and sought study opportunities in the United States.
In 1884, Nitobe traveled to the United States where he stayed for three years, and studied economics and political science at Johns Hopkins University in Baltimore, Maryland. While in Baltimore he became a member of the Religious Society of Friends (Quakers). It was through a Quaker community in Philadelphia that he met Mary Patterson Elkinton, whom he eventually married. He also influenced the establishment of the Friends School in Tokyo.
While at Johns Hopkins, he was granted an assistant professorship at his alma mater, the Sapporo Agricultural College, but was ordered to first obtain a doctorate in agricultural economics in Germany. He completed his degree after three years in Halle University and returned briefly to the United States to marry Mary Elkinton in Philadelphia before he assumed his teaching position in Sapporo in 1891. By the time he returned to Japan, he had published books in English and in German, and had received the first of his five doctorate degrees.
Nitobe continued his teaching tenure at Sapporo until 1897 as he took leave from the college. He spent three years writing first in Japan and later in California. One of the books he wrote during this period was Bushido: The Soul of Japan.
---
Showing 1 to 1 of 1 (1 Pages)