Iliya Beshkov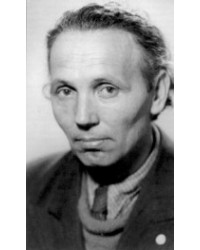 Iliya Beshkov Dunov (1901 - 1958) is one of the most remarkable Bulgarian artists from the first half of the 20th century. He works mainly in the field of visual arts - painting and graphics, but also as a writer and pedagogue. His famous works are cartoons and illustrations that mock the totalitarian regime, which became popular in Bulgaria at the beginning of the century.
Born July 24, 1901 in the village Dolni Dabnik, Pleven in a family with five children. A student at the Pleven High School, he has been spotted and patronized by his teacher Rakitin.
He attended the Law Faculty of the Sofia University, after which he taught in Dolni Dabnik. After a while began to study painting at the Art Academy under Prof. Nikola Marinov.
He began painting from his teen years, as taught by his teacher, Rakitin. His first cartoons are published in the "Zvanar" newspaper, edited by G. Iv.Valkov – a good friend and roommate of Beshkov until his marriage to Sia (Anastasia), 1931. He loved music, he played on all kinds of folk instruments.
The work of Iliya Beshkov enjoys wide popularity both in artistry and content. He is one of the most beloved and recognizable Bulgarian artists.
"Art is more inevitable than necessity. Man is more a poet than a worker."
Iliya Beshkov
---
Showing 1 to 3 of 3 (1 Pages)