Hwang Sun-mi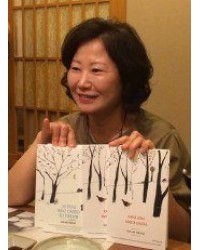 Hwang Sun-mi (born 1963) is a South Korean author and professor who is best known for her fable The Hen Who Dreamed She Could Fly.
Born in 1963 as the second of five children, Hwang was unable to attend middle school due to poverty, but thanks to a teacher who gave her a key to a classroom, she could go to the school and read books whenever she wanted. She enrolled in high school by taking a certificate examination and she graduated from the creative writing departments at Seoul Institute of the Arts and Gwangju University, and from graduate school at Chung-Ang University. She lives in Seoul, South Korea.
Hwang is an adjunct professor at the Faculty of Literature in the Seoul Institute of the Arts. Hwang's career as a writer began in 1995, and since then she has published nearly 30 books over various genres. She is most famous for her work The Hen Who Dreamed She Could Fly, which was also made into a movie that broke Korean box office records for animated films, earning nearly 7 billion won in its first month of release.
Hwang's work addresses the intersections between tradition and modernity, ecology, and the search for freedom. She is most known for her fantasy work and has won the SBS Media Literary Award (2001) and the 36th Sejong Children's Literature Prize (2003).
---
Showing 1 to 1 of 1 (1 Pages)