Grigor Velev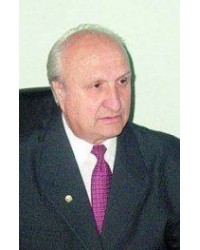 Grigor Petrov Velev was born on January 22, 1935 in Haskovo. Primary and Secondary Education he ends in his hometown. In 1958 he graduated from the Higher Medical Institute in Plovdiv and joined the Primary District Hospital in Haskovo as a pathologist. In 1960, he took a major in pathology and was appointed Head of the Pathology-Anatomy Department. After a competition in 1966 he started working as an assistant at the Department of Pathology at ISUL, Sofia.
Prof. Dr. Grigor Velev is married, has two children and three grandchildren.
He specialized in Moscow and Paris on the immunopathology of the liver. His scientific work includes 137 publications in the field of gastrointestinal, hepatic, onco- and immunopathology, among which five monographs. It is edited by the "Manual for Pathologists for General and Clinical Pathology" and four textbooks for students of General Pathology and Clinical Pathology. He has co-authored four "Practice Guides for Pathology".
After 1989 Prof. Dr. Grigor Velev is actively involved in political journalism from the positions of modern constructive nationalism. He has published more than 160 articles, analyzes and comments on topical political events in Bulgaria and abroad. He has participated in dozens of shows on various televisions devoted to the political problems in Bulgaria.
In 1997 Prof. Dr. Grigor Velev was elected Chairman of the "National Center for Bulgarian National Strategy", which was established on his initiative, which developed projects and programs devoted to various problems, related to the successful development of Bulgaria. It employs about 70 scientists.
---
Showing 1 to 6 of 6 (1 Pages)