Philotheos Kokkinos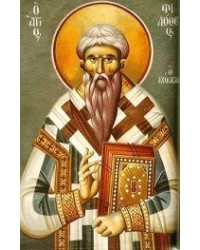 Philotheos Kokkinos (1300–1379) was the Ecumenical Patriarch of Constantinople for three periods from November 1353 to 1354, 1354, and 1364 to 1376. He was appointed patriarch in 1353 by the emperor John VI Kantakouzenos, deposed by John V Palaiologos in 1354 and then restored by Patriarch Callistus I of Constantinople. He was an anti-unionist who opposed Emperor John V in his intent to negotiate re-union of the churches with Popes Urban V and Gregory XI. He is commemorated on October 8.
Philotheus' early life is not known. He was a native of Thessaloniki and is believed to have been born about the year 1300. His mother was a Jewish convert to Orthodox Christianity.
He entered a monastic life early, becoming a monk at Mount Sinai and later he became the abbot of the Great Lavra on Mount Athos. At Mount Athos, he was a close friend of St. Gregory Palamas and became a follower and advocate of the form of contemplative prayer, Hesychasm.
Philotheus was a writer of note, writing works on the theology of the Uncreated Energies of God and attacking the scholastic philosophy that was then current in the Western church. His most famous work is the Hagiorite Tome, the manifesto of the Mount Athos monks on how the saints partake of the Divine and uncreated Light that the Apostles beheld at the Transfiguration of Jesus.
In 1347, Philotheus was consecrated Metropolitan of Heraclea, in Thrace. Becoming a protégé of co-Emperor John VI Kantakouzenos, Bishop Philotheus spent most of his time in Constantinople.
---
Showing 1 to 1 of 1 (1 Pages)