Edgar Rice Burroughs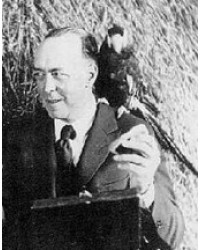 Edgar Rice Burroughs (1875–1950) was an American fiction writer best known for his celebrated and prolific output in the adventure and science-fiction genres. Among the most notable of his creations are the jungle man Tarzan, the heroic Mars adventurer John Carter and the fictional landmass within Earth known as Pellucidar. Burroughs' California ranch is now the center of the Tarzana neighborhood in Los Angeles.
Burroughs was born on September 1, 1875, in Chicago, Illinois (he later lived for many years in the suburb of Oak Park). He was of almost entirely English ancestry, with a family line that had been in North America since the Colonial era.
Burroughs was educated at a number of local schools. He then attended Phillips Academy, in Andover, Massachusetts, and then the Michigan Military Academy. Graduating in 1895, and failing the entrance exam for the United States Military Academy at West Point, he became an enlisted soldier with the 7th U.S. Cavalry in Fort Grant, Arizona Territory. After being diagnosed with a heart problem and thus ineligible to serve, he was discharged in 1897.
After his discharge, Burroughs worked a number of different jobs. During the Chicago influenza epidemic of 1891, he spent half a year at his brother's ranch on the Raft River in Idaho, as a cowboy, drifted somewhat afterward, then worked at his father's Chicago battery factory in 1899, marrying his childhood sweetheart, Emma Hulbert (1876–1944), in January 1900.
In 1903, Burroughs joined his brothers, Yale graduates George and Harry, who were, by then, prominent Pocatello area ranchers in southern Idaho, and partners in the Sweetser-Burroughs Mining Company, where he took on managing their ill-fated Snake River gold dredge, a classic bucket-line dredge. The Burroughs brothers were also the sixth cousins, once removed, of famed miner Kate Rice, a brilliant and statuesque Maths professor who, in 1914, became the first female prospector in the Canadian North. Journalist and publisher C. Allen Thorndike Rice was also his third cousin.
When the new mine proved unsuccessful, the brothers secured for Burroughs a position with the Oregon Short Line Railroad in Salt Lake City. Burroughs resigned from the railroad in October 1904.
After the war ended, Burroughs moved back to Encino, California, where after many health problems, he died of a heart attack on March 19, 1950, having written almost 80 novels. He is buried at Tarzana, California, US.

---
Showing 1 to 2 of 2 (1 Pages)