Joseph Dispenza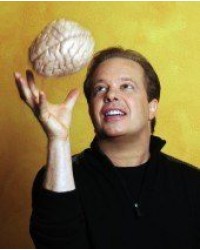 Joe Dispenza, D.C. is an international lecturer, researcher, corporate consultant, author, and educator who has been invited to speak in more than 32 countries on five continents. As a lecturer and educator, he is driven by the conviction that each of us has the potential for greatness and unlimited abilities. In his easy-to-understand, encouraging, and compassionate style, he has educated thousands of people, detailing how they can rewire their brains and recondition their bodies to make lasting changes.
In addition to offering a variety of online courses and teleclasses, he has personally taught three-day progressive workshops and five-day advanced workshops in the U.S. and abroad. Starting in 2018, his workshops will become week-long offerings, and the content of the progressive and advanced workshops will be available online.
Dr. Joe is also a faculty member at Quantum University in Honolulu, Hawaii; the Omega Institute for Holistic Studies in Rhinebeck, New York; and Kripalu Center for Yoga and Health in Stockbridge, Massachusetts. He's also an invited chair of the research committee at Life University in Atlanta, Georgia.
As a researcher, Dr. Joe's passion can be found at the intersection of the latest findings from the fields of neuroscience, epigenetics, and quantum physics to explore the science behind spontaneous remissions. He uses that knowledge to help people heal themselves of illnesses, chronic conditions, and even terminal diseases so they can enjoy a more fulfilled and happy life, as well as evolve their consciousness. At his advanced workshops around the world, he has partnered with other scientists to perform extensive research on the effects of meditation, including epigenetic testing, brain mapping with electroencephalograms (EEGs), and individual energy field testing with a gas discharge visualization (GDV) machine.
Dr. Joe received a B.S. from Evergreen State College and his doctor of chiropractic degree from Life University, where he graduated with honors. His postgraduate training covered neurology, neuroscience, brain function and chemistry, cellular biology, memory formation, and aging and longevity.

---
Showing 1 to 1 of 1 (1 Pages)