Joshua Foer, Dylan Thuras, Ella Morton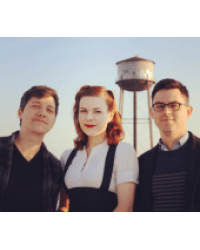 Joshua Foer (born September 23, 1982) is a freelance journalist living in New Haven, Connecticut, with a primary focus on hard sciences. He was the 2006 U.S.A. Memory Champion, which was described in his 2011 book, Moonwalking with Einstein: The Art and Science of Remembering Everything. He spoke at the TED conference in February 2012.
Foer was born in Washington, D.C.. He is the younger brother of former The New Republic editor Franklin Foer and novelist Jonathan Safran Foer. He is the son of Esther Foer, Director of Sixth & I Historic Synagogue, and Albert Foer, founder and former president of the think-tank American Antitrust Institute. He was born in Washington, D.C. and attended Georgetown Day School.
Foer went on to attend Yale University, where he resided in Silliman College and Trumbull College and majored in ecology and evolutionary biology and graduated with a B.A. in 2004.
---
Dylan Thuras was born on October 17, 1982 in Minneapolis, Minnesota, USA. He has lived in Budapest, Hungary; making documentary shorts and chronicling his adventures.
He attended Bennington College, Bennington, Vermont [June 2002].
Dylan's pursuit of the unusual began as a teenager exploring abandoned buildings in the mid-west and eventually took him and his wife Michelle to Budapest for a year, to exploring Eastern Europe's obscure and wondrous locales.
After co-producing an evening of wonders with Joshua Foer, the two began hatching plans for their next big project. Creating a way for curious travelers to find the hidden wonders of the world seemed like a heck of a lot of fun, and the Atlas Obscura was born.
---
Ella Morton is a New Zealand-born, Australian-raised, Brooklyn-based writer, focusing on overlooked aspects of history and culture. After covering consumer technology at CNET she hosted Rocketboom NYC, a web show about New York's quirkier people and places. Her most popular interview was a chat with Cookie Monster on the set of Sesame Street.

Ella is now Associate Editor at Atlas Obscura, where she writes about such topics as tobacco smoke enemas, Victorian streaming music services, and the etiquette of marrying a ghost.

---
Showing 1 to 1 of 1 (1 Pages)