Jonathan Safran Foer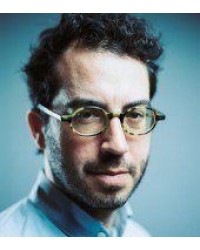 Jonathan Safran Foer (born February 21, 1977) is an American novelist. He is best known for his novels Everything Is Illuminated (2002), Extremely Loud & Incredibly Close (2005), and for his non-fiction work Eating Animals (2009). His most recent novel, Here I Am, was published in 2016. He teaches creative writing at New York University.
Foer was born in Washington, D.C., the son of Albert Foer, a lawyer and president of the American Antitrust Institute, and Esther Safran Foer, a child of Holocaust survivors born in Poland, who is now Senior Advisor at the Sixth & I Historic Synagogue. Foer is the middle son in this Jewish family; his older brother, Franklin, is a former editor of The New Republic and his younger brother, Joshua, is the founder of Atlas Obscura. Foer was a "flamboyant" and sensitive child who, at the age of 8, was injured in a classroom chemical accident that resulted in "something like a nervous breakdown drawn out over about three years," during which "he wanted nothing, except to be outside his own skin."
Foer attended Georgetown Day School and in 1994 traveled to Israel with other North American Jewish teenagers in a program sponsored by Bronfman youth fellowships. In 1995, while a freshman at Princeton University, he took an introductory writing course with author Joyce Carol Oates, who took an interest in his writing, telling him that he had "that most important of writerly qualities, energy." Foer later recalled that "she was the first person to ever make me think I should try to write in any sort of serious way. And my life really changed after that." Oates served as the advisor to Foer's senior thesis, an examination of the life of his maternal grandfather, the Holocaust survivor Louis Safran. For his thesis, Foer received Princeton's Senior Creative Writing Thesis Prize.
After graduating from Princeton, Foer attended briefly the Mount Sinai School of Medicine before dropping out to pursue his writing career.
---
Showing 1 to 1 of 1 (1 Pages)