John Scalzi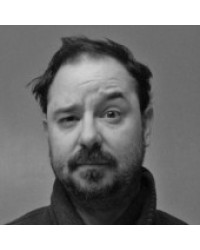 John Michael Scalzi II (born May 10, 1969) is an American science fiction author and former president of the Science Fiction and Fantasy Writers of America. He is best known for his Old Man's War series, three novels of which have been nominated for the Hugo Award, and for his blog Whatever, where he has written on a number of topics since 1998. He won the Hugo Award for Best Fan Writerin 2008 based predominantly on that blog, which he has also used for several charity drives. His novel Redshirts won the 2013 Hugo Award for Best Novel. He has written non-fiction books and columns on diverse topics such as finance, video games, films, astronomy, writing and politics, and served as a creative consultant for the TV series Stargate Universe.
Scalzi was born in Fairfield, California, on May 10, 1969. One of three children to a single mother, he grew up in the Los Angeles suburbs of Covina, Glendora, Azusa, and San Dimas. He is of Italian descent; his grandfather immigrated from Italy to the United States as a young child.
Scalzi's childhood was spent in poverty, an experience that inspired him to write his most famous essay, "Being Poor." He attended the Webb School of California, a boarding school in Claremont, on a scholarship. One of his classmates was blogger and journalist Josh Marshall.
Scalzi earned a bachelor's degree in philosophy at the University of Chicago, graduating in 1991. Scalzi's thesis advisor, for a brief time, was Saul Bellow. Scalzi abandoned his course of study with Bellow after he was elected Student Ombudsman of the University. Ted Cohen, a philosophy professor, became his next thesis advisor, but Scalzi graduated without completing his thesis project. During his 1989–1990 school year, Scalzi was the editor-in-chief of The Chicago Maroon. He began writing professionally in 1990, while a college student, working freelance for the Chicago Sun-Times.
---
Showing 1 to 1 of 1 (1 Pages)