Johnjoe McFadden, Jim Al-Khalili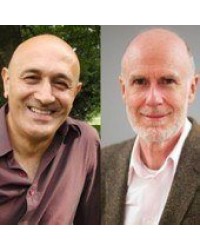 Johnjoe McFadden (born in 1956) is an Anglo-Irish scientist, academic and writer. He is Professor of Molecular Genetics at the University of Surrey, United Kingdom.
McFadden was born in Donegal, Ireland but raised in the UK. He holds joint British and Irish Nationality. He obtained his BSc in Biochemistry University of London in 1977 and his PhD at Imperial College London in 1982. He went on to work on human genetic diseases and then infectious diseases, at St Mary's Hospital Medical School, London (1982–84) and St George's Hospital Medical School, London (1984–88) and then at the University of Surrey in Guildford, UK.
For more than a decade, McFadden has researched the genetics of microbes such as the agents of tuberculosis and meningitis and invented a test for the diagnosis of meningitis. He has published more than 100 articles in scientific journals on subjects as wide-ranging as bacterial genetics, tuberculosis, idiopathic diseases and computer modelling of evolution. He has contributed to more than a dozen books and has edited a book on the genetics of mycobacteria. He produced a widely reported artificial life computer model which modelled evolution in organisms.
---
Jameel Sadik "Jim" Al-Khalili OBE (born in 1962) is a British Iraqi theoretical physicist, author and broadcaster. He is currently Professor of Theoretical Physics and Chair in the Public Engagement in Science at the University of Surrey. He has presented a number of science programmes on BBC television and is a frequent commentator about science in other British media.
In 2014, Al-Khalili was named as a RISE (Recognising Inspirational Scientists and Engineers) leader by the UK's Engineering and Physical Sciences Research Council (EPSRC). He was President of the British Humanist Association between January 2013 and January 2016.
McFadden has lectured extensively in the UK, Europe, the US and Japan and his work has been featured on radio, television and national newspaper articles particularly for the Guardian. His present post, which he has held since 2001, is Professor of Molecular Genetics at the University of Surrey. Living in London, he is married and has one son.
Born in Baghdad in 1962 to an Iraqi father and an English mother, Al-Khalili settled permanently in the UK in 1979. After completing his A-levels in 1982, he studied physics at the University of Surrey and graduated with a Bachelor of Science degree in 1986. He stayed on at Surrey to pursue a Doctor of Philosophy degree in nuclear reaction theory, which he obtained in 1989, rather than accepting a job offer from the National Physical Laboratory.
---
Showing 1 to 1 of 1 (1 Pages)