James Oliver Curwood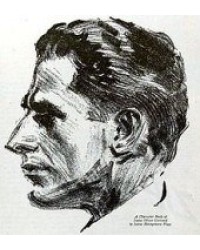 James Oliver "Jim" Curwood (June 12, 1878 – August 13, 1927) was an American action-adventure writer and conservationist. His books ranked among Publishers Weekly top-ten best sellers in the United States in the early 1920s. At least eighteen motion pictures have been based on or directly inspired by his novels and short stories. At the time of his death, he was the highest paid (per word) author in the world. His writing studio, Curwood Castle, is now a museum in Owosso, Michigan.
Born in Owosso, Michigan he left high school without graduating but was able to pass the entrance exams to the University of Michigan where he studied journalism. In 1900, Curwood sold his first story while working for the Detroit News-Tribune. By 1909 he had saved enough money to travel to the Canadian northwest, a trip that provided the inspiration for his wilderness adventure stories. The success of his novels afforded him the opportunity to return to the Yukon and Alaska for several months each year that allowed him to write more than thirty such books.
By 1922, Curwood's writings had made him a very wealthy man and he fulfilled a childhood fantasy by building Curwood Castle in Owosso. Constructed in the style of an 18th century French chateau, the estate overlooked the Shiawassee River. In one of the home's two large turrets, Curwood set up his writing studio. Curwood also owned a camp in a remote area in Baraga County, Michigan, near the Huron Mountains.
An advocate of environmentalism, Curwood was appointed to the Michigan Conservation Commission in 1926. The following year, while on a Florida fishing trip, Curwood was bitten on the thigh by what was believed to have been a spider and had an immediate allergic reaction. Health problems related to the bite escalated over the next few months and infection set in that led to his death from blood poisoning.
Interred in the Oak Hill Cemetery in Owosso, his Curwood Castle is now a museum. During the first full weekend in June of each year, the city of Owosso holds the Curwood Festival to celebrate the city's heritage. Also in his honor, a mountain in L'Anse Township, Michigan was given the name Mount Curwood, and the L'Anse Township Park was renamed Curwood Park.

---
Showing 1 to 1 of 1 (1 Pages)