Gerald Scarfe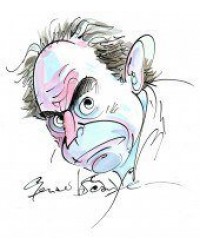 Gerald Anthony Scarfe, (born 1 June 1936) is an English cartoonist and illustrator. He has worked as editorial cartoonist for The Sunday Times and illustrator for The New Yorker.
His other work includes graphics for rock group Pink Floyd, particularly on their 1979 album The Wall, its 1982 film adaption, and tour (1980-81), as well as the music video for "Welcome to the Machine". Scarfe was the production designer on the Disney animated feature Hercules (1997). Scarfe also provided the opening titles for Yes Minister and Yes, Prime Minister.
He is married to actress Jane Asher, whom he met in 1971. The couple wed in 1981 and have a daughter and two sons.
Scarfe was born in St John's Wood, London. As Scarfe was severely asthmatic as a child, he spent many of his early years bed-ridden, so drawing became a means of entertainment as well as a creative outlet. It has been speculated that the grotesque and diseased images that often characterise his work are a result of these experiences. He has himself stated that the irreverence apparent in much of his work can be traced back to "dodgy treatments" and a reliance on what he feels were incompetent doctors.
He moved to Hampstead at the age of 14, being influenced by the work of Ronald Searle. He went to Saint Martin's School of Art (now part of the University of the Arts London) in Holborn, London. He also went to the London College of Printing and East Ham Technical College (became Newham College of Further Education).
---
Showing 1 to 1 of 1 (1 Pages)