Jeffrey Gitomer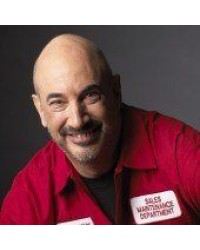 Jeffrey Gitomer (born February 11, 1946 in West Palm Beach, Florida) is an American author, professional speaker, and business trainer, who writes and lectures internationally on sales, customer loyalty, and personal development. He lives with his family in Charlotte, North Carolina.
Gitomer attended Temple University, but left after his first year to attend the Goethe Institute in Berlin, Germany, where he studied languages. In a Time Magazine feature article, Gitomer quips about his college education: "I went on the six-year you-don't-quite-graduate program, which I completed successfully." The Charlotte Observer describes him as "...a college drop-out who has built a sales training empire.
Gitomer has given more than 100 presentations annually for the past 15 years, including public and corporate seminars, annual sales meetings, and keynote addresses, and is ranked in the top 1% of non-celebrity speakers by the National Speakers Association. Gitomer's seminar circuit includes appearances in North America, South America, Europe, Asia, and Australia. On August 4, 2008, at the National Speakers Association Convention in New York, he was inducted into the Speaker Hall of Fame.
Gitomer is the founder and president of TrainOne, Inc., which provides classroom and online training in sales, customer loyalty, and personal development. TrainOne offers e-learning on both a proprietary, customizable Learning Management System, as well as providing SCORM-compatible classes. TrainOne consists of a team of American and Canadian educators, designers, and programmers, and is franchised in the United States, Turkey, South Africa, and Singapore.
---
Showing 1 to 5 of 5 (1 Pages)