Jane Goodall, Douglas Abrams & Gail Hudson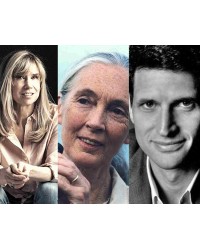 Dr. Jane Goodall, DBE, founder of the Jane Goodall Institute and UN Messenger of Peace, is an iconic voice for holistic, compassionate, and sustainable solutions. Through her global advocacy as an ethologist and environmentalist, she is shaping attitudes and policy on issues ranging from human rights to the climate crisis, and inspiring action through the power of hope.

Gail Hudson is an international bestselling writer who writes about the power of human relationships to heal the world. Gail has written three books about saving animals and the natural world with the renowned primatologist Dr. Jane Goodall. Most recently Gail collaborated with Jane Goodall and Douglas Adams on the Book of Hope, A Survival Guide for Trying Times. Gail's personal essays and articles about spiritual growth and human relationships have appeared in numerous national and international publications.
Doug Abrams is an author, editor, literary agent, and truth hunter who is committed to helping catalyze the next evolutionary stage of our global culture.

---
Showing 1 to 1 of 1 (1 Pages)