Donald Trump, Robert Kiyosaki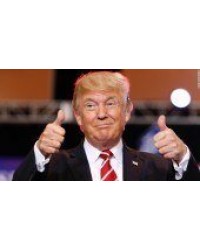 Donald John Trump (born June 14, 1946) is the 45th and current President of the United States, in office since January 20, 2017. Before entering politics, he was a businessman and television personality.
Trump was born in the New York City borough of Queens and earned an economics degree from the Wharton School of the University of Pennsylvania. A third generation businessman, Trump followed in the footsteps of his grandmother Elizabeth Christ Trump and father Fred Trump in running the family real estate company. He served as chairman and president of The Trump Organization from 1971 until January 2017. Upon his accession to the presidency, Trump delegated company management to his sons Donald Jr. and Eric. Trump's business career primarily focused on building or renovating office towers, hotels, casinos, and golf courses.
Trump also started several side ventures and branded various products with his name. He has written or co-written several books (most notably The Art of the Deal), and produced and hosted The Apprentice television series for 12 years. As of 2017, he was the 544th richest person in the world with an estimated net worth of $3.5 billion.
---
Robert Toru Kiyosaki (born April 8, 1947) is an American businessman and author. Kiyosaki is the founder of the Rich Dad Company, a private financial education company that provides personal finance and business education to people through books and videos. He is also the creator of the Cashflow board and software games to educate adults and children business and financial concepts.
Kiyosaki is the author of more than 26 books, including the international self-published personal finance Rich Dad Poor Dad series of books which has been translated into 51 languages, available in 109 countries and have combined sales of over 27 million copies sold worldwide.
---
Showing 1 to 2 of 2 (1 Pages)