Chip and Dan Heath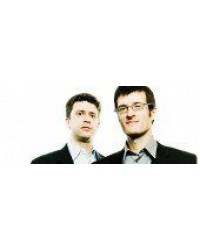 Chip Heath is a professor at Stanford Graduate School of Business, teaching courses on business strategy and organizations. He is the co-author (along with his brother, Dan) of three books. Their latest book, Decisive: How to Make Better Decisions in Life and Work was published in spring of 2013 and debuted at #1 on the Wall Street Journal bestseller list and #2 on the New York Times.
Their 2010 book, Switch: How to Change Things When Change is Hard, hit #1 on both bestseller lists. Their first book, Made to Stick: Why Some Ideas Survive and Others Die, spent two years on the Business Week bestseller list and was an Amazon Top 10 Business Book for both editors and readers. Their books have been translated into over 30 languages including Thai, Arabic, and Lithuanian.
Chip has consulted with clients ranging from Google and Gap to The Nature Conservancy and the American Heart Association. His parents are just happy that their sons are playing well together.
Dan Heath is a Senior Fellow at Duke University's CASE center, which supports social entrepreneurs. At CASE, he founded the Change Academy, a program designed to boost the impact of social sector leaders.
Dan is the co-author, along with his brother Chip, of three New York Times bestsellers: Decisive, Switch, and Made to Stick. Amazon.com's editors named Switch one of the Best Nonfiction Books of the Year, and it spent 47 weeks on the New York Times Bestseller list. Made to Stick was named the Best Business Book of the Year and spent 24 months on the BusinessWeek bestseller list. Their books have been translated into over 30 languages.
Previously, Dan worked as a researcher and case writer for Harvard Business School. In 1997, Dan co-founded an innovative publishing company called Thinkwell, which continues to produce a radically reinvented line of college textbooks.
Dan has an MBA from Harvard Business School and a BA from the Plan II Honors Program from the University of Texas at Austin. One proud geeky moment for Dan was his victory in the 2005 New Yorker Cartoon Caption Contest, beating out 13,000 other entrants. He lives in Durham, NC.
---
Showing 1 to 2 of 2 (1 Pages)