Bruce Lee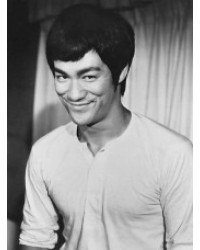 Lee Jun-fan (1940–1973), known professionally as Bruce Lee (Chinese: 李小龍), was a Hong Kong and American actor, film director, martial artist, martial arts instructor, philosopher and founder of the martial art Jeet Kune Do one of the wushu or kungfu styles. Lee was the son of Cantonese opera star Lee Hoi-chuen. He is widely considered by commentators, critics, media, and other martial artists to be one of the most influential martial artists of all time, and a pop culture icon of the 20th century. He is often credited with helping to change the way Asians were presented in American films.
Lee was born in Chinatown, San Francisco, on November 27, 1940, to parents from Hong Kong and was raised in Kowloon, Hong Kong, with his family until his late teens. He was introduced to the film industry by his father and appeared in several films as a child actor. Lee moved to the United States at the age of 18 to receive his higher education, at the University of Washington, at Seattle and it was during this time that he began teaching martial arts. His Hong Kong and Hollywood-produced films elevated the traditional Hong Kong martial arts film to a new level of popularity and acclaim, sparking a surge of interest in Chinese martial arts in the West in the 1970s. The direction and tone of his films changed and influenced martial arts and martial arts films in the US, Hong Kong, and the rest of the world.
He is noted for his roles in five feature-length films: Lo Wei's The Big Boss (1971) and Fist of Fury (1972); Golden Harvest's Way of the Dragon (1972), directed and written by Lee; Golden Harvest and Warner Brothers' Enter the Dragon (1973) and The Game of Death(1978), both directed by Robert Clouse. Lee became an iconic figure known throughout the world, particularly among the Chinese, as he portrayed Chinese nationalism in his films. He trained in the art of Wing Chun and later combined his other influences from various sources, in the spirit of his personal martial arts philosophy, which he dubbed Jeet Kune Do (The Way of the Intercepting Fist). Lee held dual nationality in Hong Kong and the US. He died in Kowloon Tong on July 20, 1973, at the age of 32.
Jeet Kune Do originated in 1967. After filming one season of The Green Hornet, Lee found himself out of work and opened The Jun Fan Gung Fu Institute. The controversial match with Wong Jack Man influenced Lee's philosophy about martial arts. Lee concluded that the fight had lasted too long and that he had failed to live up to his potential using his Wing Chun techniques. He took the view that traditional martial arts techniques were too rigid and formalistic to be practical in scenarios of chaotic street fighting. Lee decided to develop a system with an emphasis on "practicality, flexibility, speed, and efficiency". He started to use different methods of training such as weight training for strength, running for endurance, stretching for flexibility, and many others which he constantly adapted, including fencing and basic boxing techniques.
Lee emphasised what he called "the style of no style". This consisted of getting rid of the formalised approach which Lee claimed was indicative of traditional styles. Lee felt the system he now called Jun Fan Gung Fu was even too restrictive, and eventually evolved into a philosophy and martial art he would come to call Jeet Kune Do or the Way of the Intercepting Fist. It is a term he would later regret, because Jeet Kune Do implied specific parameters that styles connote; whereas the idea of his martial art was to exist outside of parameters and limitations.
On May 10, 1973, Lee collapsed during an automated dialogue replacement session for Enter the Dragon at Golden Harvest in Hong Kong. Suffering from seizures and headaches, he was immediately rushed to Hong Kong Baptist Hospital where doctors diagnosed cerebral edema. They were able to reduce the swelling through the administration of mannitol. The headache and cerebral edema that occurred in his first collapse were later repeated on the day of his death.
On July 20, 1973, Lee was in Hong Kong, to have dinner with actor George Lazenby, with whom he intended to make a film. According to Lee's wife Linda, Lee met producer Raymond Chow at 2 p.m. at home to discuss the making of the film Game of Death. They worked until 4 p.m. and then drove together to the home of Lee's colleague Betty Ting Pei, a Taiwanese actress. The three went over the script at Ting's home, and then Chow left to attend a dinner meeting.
Later Lee complained of a headache, and Ting gave him an analgesic, Equagesic, which contained both aspirin and the tranquilizer meprobamate. Around 7:30 p.m., he went to lie down for a nap. When Lee did not come for dinner, producer Raymond Chow came to the apartment, but was unable to wake Lee up. A doctor was summoned, who spent ten minutes attempting to revive Lee before sending him by ambulance to Queen Elizabeth Hospital. By the time the ambulance reached the hospital he was dead. He was 32 years old.
There was no visible external injury; however, according to autopsy reports, Lee's brain had swollen considerably, from 1,400 to 1,575 grams (a 13% increase). The autopsy found Equagesic in his system. On October 15, 2005, Chow stated in an interview that Lee died from an allergic reaction to the tranquilizer meprobamate, the main ingredient in Equagesic, which Chow described as an ingredient commonly used in painkillers. When the doctors announced Lee's death officially, it was ruled a "death by misadventure".
Lee's wife Linda returned to her hometown of Seattle, and had him buried at lot 276 of Lake View Cemetery in Seattle. Pallbearers at his funeral on July 25, 1973, included Taky Kimura, Steve McQueen, James Coburn, Chuck Norris, George Lazenby, Dan Inosanto, Peter Chin, and Lee's brother Robert.
Around the time of Lee's death, numerous rumors appeared in the media. Lee's iconic status and untimely demise fed many wild rumors and theories. These included murder involving the Triads and a supposed curse on him and his family.
Donald Teare, a forensic scientist recommended by Scotland Yard who had overseen over 1,000 autopsies, was assigned to the Lee case. His conclusion was "death by misadventure" caused by an acute cerebral edema due to a reaction to compounds present in the combination medication Equagesic.
Although there was initial speculation that cannabis found in Lee's stomach may have contributed to his death, Teare refuted this, stating that it would "be both 'irresponsible and irrational' to say that [cannabis] might have triggered either the events of Bruce's collapse on May 10 or his death on July 20". Dr. R. R. Lycette, the clinical pathologist at Queen Elizabeth Hospital, reported at the coroner hearing that the death could not have been caused by cannabis.
---
Showing 1 to 1 of 1 (1 Pages)