Boris Bazhanov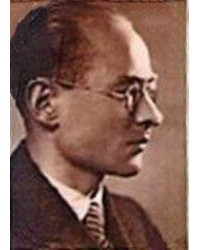 Boris Georgiyevich Bazhanov (1900 – 1982) was a secretary of the Soviet Union's Politburo, and personal secretary to Joseph Stalin from August 1923 to 1925.
After holding several different positions in the Politburo from 1925 to 1928, Bazhanov defected from the Soviet Union on January 1, 1928, gaining French citizenship. The only assistant of Stalin's secretariat to have defected, subsequent attempts to hunt down and kill Bazhanov in France failed, and from 1930 he wrote and published memoirs and books about the secrets behind Stalin's actions, which continued to be published and translated after his death in 1982.
Boris Bazhanov was born in 1900, in Mogilev-Podolskiy, Russian Empire (now in Vinnytsia Oblast, Ukraine), the son of a physician. When Bazhanov was 17 years old, the Russian Revolution of 1917 led to the collapse of the Russian Empire and the subsequent Russian Civil War. With the splintering of power in Bazhanov's native Ukraine, the Ukrainian territory was continuously fought over by various ideological factions.
Despite the political situation, Bazhanov graduated from high school in the summer of 1918, and in September went to study physics and mathematics at the University of Kiev, however shortly after his arrival the university was closed. During a student demonstration against the closure of the university Bazhanov was injured by gunfire, afterwards returning to his hometown to recover.
In 1919, Bazhanov joined the local Communist Party of the Soviet Union organization, to which he later recalled having to choose between Communism or Ukrainian nationalism, stating he eventually rejected nationalism as he had been raised and associated with Russian culture. Bazhanov was soon afterwards elected district secretary, quickly rising through local party posts in Ukraine, he went to Moscow to study engineering in November 1920. The following year, when Bazhanov was 21, the political fighting within the Ukrainian territory had ended in communist victory, with territory being divided between Soviet Ukraine and Poland, with smaller regions belonging to Czechoslovakia and Romania. In 1922, Soviet Ukraine joined the newly-founded Soviet Union as its constituent republic, after which Bazhanov applied for a technical position within the Politburo of the Communist Party of the Soviet Union apparatus and was accepted by Ksenofontov.
On August 9, 1923, Bazhanov was named assistant to the Soviet leader, General Secretary Joseph Stalin, based on a decision of the organization bureau that read: "Comrade Bazhanov is named assistant to Joseph Stalin and a secretary of the CC.
---
Showing 1 to 1 of 1 (1 Pages)