Bisera Videnova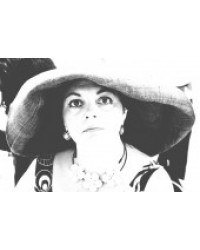 Bissera Videnova (Koleva) was born in the year of the Fire Horse in Sofia, but her first 3 years passed near the coliseum in El Jem, Tunisia. When she is 7 years old, she plays the role of Princess Elena in "Weddings of John Assen II", a film by Vili Tsankov, who is also the last to Apostol Karamitev. Next movie she happens to appear in are "Gonitba" by Vassil Mirchev, "Buna" - again by Vili Tsankov, and "The fairytale square" - production of BNT and Theofana Preslavska. She used to trains swimming and shooting sports, as well as playing a piano. She graduated from the 7th High School "St. Sedmochislenici (Then "G. Dimitrov"). A year before, she was left without both her parents.
She works as a cleaner, packs medicine, sells tickets for theater, has a degree for typing, works as a voiceactress, specializes in multi-level sales. Since 2003 she has been a professional consultant for classical Feng Shui and as such one she leads a one-year rubric in "Usuri" magazine (2011). She also has publications in the newspapers like "Standard", "Dnevnik", "Life and Health" and participations in the Bulgarian National Radio.
She is trying to improve the reallity around herself with art. Since 2009 she has been a certified mediator. She has published prose and essays in the websites like "Webcafe" and "Indymedia", as well as in "Next" and "Sea" magazine.
She won a promotional prize from the "Love Exercises" competition - "Mausoleum". In 2010 and 2011 she attended the Summer School of Creative Writing at the NBU with lecturer Emilia Dvoriyanova.
---
Showing 1 to 1 of 1 (1 Pages)