Bill McGuire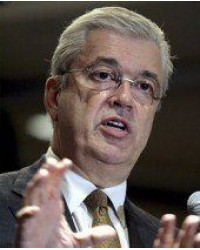 William J. "Bill" McGuire (born 1954) is Emeritus Professor of Geophysical & Climate Hazards at University College London and is one of Britain's leading volcanologists. His main interests include volcano instability and lateral collapse, the nature and impact of global geophysical events and the effect of climate change on geological hazards.
McGuire studied at UCL and Luton College of Higher Education, now the University of Bedfordshire and has a PhD in Geology from University College London (1980). He began lecturing in Geology at the West London Institute of Higher Education in the 1980s, former home of well known TV geologist Iain Stewart. He was then appointed Reader at Cheltenham & Gloucester College of Higher Education (now the University of Gloucestershire), and made it into the university sector in the 1990s when he was appointed Professor of Geohazards and Director of the Aon Benfield UCL Hazard Research Centre at University College London. The centre is funded by the insurance industry. He relinquished the Directorship in 2011.
He was a member of the UK Government's Natural Hazard Working Group, established by Prime Minister Tony Blair following the 2004 Indian Ocean tsunami. In 2010 he was member of the Scientific Advisory Group for Emergencies (SAGE), to address problems following the eruptions of Eyjafjallajökull. He contributed to the IPCC summary report on extreme weather and disasters (2011).
McGuire lives in a geologically inactive area, Brassington in the Peak District, with his wife and two sons after many years in Hampton, Surrey.
---
Showing 1 to 1 of 1 (1 Pages)