B. K. S. Iyengar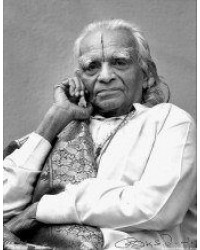 Bellur Krishnamachar Sundararaja Iyengar (14 December 1918 – 20 August 2014), better known as B.K.S. Iyengar, was the founder of the style of yoga known as "Iyengar Yoga" and was considered one of the foremost yoga teachers in the world. He was the author of many books on yoga practice and philosophy including Light on Yoga, Light on Pranayama, Light on the Yoga Sutras of Patanjali, and Light on Life. Iyengar was one of the earliest students of Tirumalai Krishnamacharya, who is often referred to as "the father of modern yoga". He has been credited with popularizing yoga, first in India and then around the world.
The Indian government awarded Iyengar the Padma Shri in 1991, the Padma Bhushan in 2002 and the Padma Vibhushan in 2014. In 2004, Iyengar was named one of the 100 most influential people in the world by Time magazine.
B.K.S. Iyengar was born into a poor Sri Vaishnava Iyengar family in Bellur, Kolar district, Karnataka, India. He was the 11th of 13 children (10 of whom survived) born to Sri Krishnamachar, a school teacher, and Sheshamma. When Iyengar was five years old, his family moved to Bangalore. Four years later, the 9-year-old boy lost his father, who died of appendicitis.
Iyengar's home town, Bellur, was in the grip of the influenza pandemic at the time of his birth, and an attack of that disease left the young boy sickly and weak for many years. Throughout his childhood, he struggled with malaria, tuberculosis, typhoid fever, and general malnutrition. "My arms were thin, my legs were spindly, and my stomach protruded in an ungainly manner," he wrote. "My head used to hang down, and I had to lift it with great effort."
Iyengar reported in interviews that, at the age of 90, he continued to practice asanas for 3 hours and pranayamas for an hour daily. Besides this, he mentioned that he found himself performing non-deliberate pranayamas at other times.
---
Showing 1 to 4 of 4 (1 Pages)