Arianna Huffington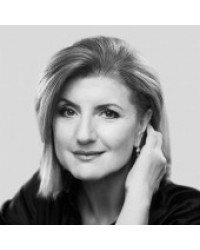 Arianna Huffington (born July 15, 1950) is a Greek American author, syndicated columnist, and businesswoman.
Huffington was the co-founder and editor-in-chief of The Huffington Post, which is now owned by AOL. She was a popular conservative commentator in the mid-1990s, after which, in the late-1990s, she offered liberal points of view in public, while remaining involved in business endeavors. In 2003, she ran as an independent candidate for governor in the California recall election and lost. In 2009, Huffington was #12 in Forbes's first-ever list of the Most Influential Women In Media. She has also moved up to #42 in The Guardian's Top 100 in Media List. As of 2014, she is listed by Forbes as the 52nd Most Powerful Woman in the World.
In 2011, AOL acquired The Huffington Post for US$315 million, and made Huffington the President and Editor-in-chief of The Huffington Post Media Group, which included The Huffington Post and then-existing AOL properties including AOL Music, Engadget, Patch Media, and StyleList. On August 11, 2016, it was announced that she would step down from her role at The Huffington Post to devote her time to a new startup, Thrive Global, focused on health and wellness information.
Huffington was born Ariadnē-Anna Stasinopoúlou in Athens, Greece, the daughter of Konstantinos (a journalist and management consultant) and Elli (née Georgiadi) Stasinopoulou, and is the sister of Agapi (an author, speaker and performer). She moved to the United Kingdom at the age of 16 and studied economics at Girton College, Cambridge, where she was the first foreign, and third female President of the Cambridge Union.
---
Showing 1 to 1 of 1 (1 Pages)