Alija Izetbegović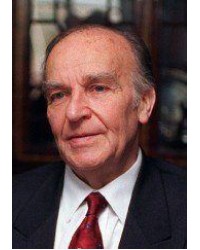 Alija Izetbegović (8 August 1925 – 19 October 2003) was a Bosnian politician, activist, lawyer, author, and philosopher who in 1992 became the first President of the newly-independent Republic of Bosnia and Herzegovina. He served in this role until 1996, when he became a member of the Presidency of Bosnia and Herzegovina, serving until 2000. He was also the author of several books, most notably Islam Between East and West and the Islamic Declaration.
Alija Izetbegović was born on 8 August 1925 in the northern Bosnian town of Bosanski Šamac. He was the third of five children—two sons and three daughters—born to Mustafa and Hiba Izetbegović. His was a distinguished but impoverished family descended from a former aristocrat family of Izet-bey Jahić from Belgrade who moved to the Bosnia Vilayet in 1861, following the withdrawal of the last Ottoman troops from Serbia. The Jahić family lived in Belgrade for hundreds of years. While serving as a soldier in Üsküdar, Izetbegović's grandfather Alija married a Turkish woman named Sıdıka Hanım. The couple eventually moved to Bosanski Šamac and had five children. Izetbegović's grandfather later became the town's mayor, and reportedly saved forty Serbs from execution at the hands of Austro-Hungarian authorities following Gavrilo Princip's assassination of Archduke Franz Ferdinand of Austria in June 1914.
In 1970, Izetbegović published a manifesto entitled the Islamic Declaration, expressing his views on relationships between Islam, state and society. The authorities interpreted the declaration as a call for introduction of fundamentalist Sharia law in Bosnia and Herzegovina, and banned the publication. In it, he tried to reconcile Western-style progress with Islamic tradition. The work issued a call for "Islamic renewal" without mentioning Yugoslavia specifically. However, he and his supporters were accused by the Communist authorities of reviving the "Young Muslims" organisation and of a conspiracy to set up an "Islamically pure" Bosnia and Herzegovina.
The declaration designated Pakistan as a model country to be emulated by Muslim revolutionaries worldwide. One of the passages that was in particular picked out by his opponents during the trial was, "There can be no peace or coexistence between the Islamic faith and non-Islamic social and political institutions...the state should be an expression of religion and should support its moral concepts." The declaration remains a source of controversy. Serbs, who were opposed to Izetbegović, often quoted the declaration as indicative of an intent to create an Iranian-style Islamic republic in Bosnia.
He himself later insisted many times that the statements about the creation of an Islamic state were hypothetical and were not to be the applied to the situation in Bosnia. Regardless, Bosnia's non-Muslim population were unsettled by several of his statements in his writings. Passages from the declaration were frequently quoted by Izetbegović's opponents during the 1990s, who considered it to be an open statement of Islamic fundamentalism. This opinion is also shared by some Western authors.
Izetbegović vigorously denied these accusations. British author Noel Malcolm asserted that the Serb nationalist interpretation of the Declaration was false propaganda and offered a more benevolent reading. Explaining that it was "a general treatise on politics and Islam, directed towards the entire Muslim world; it is not about Bosnia and does not even mention Bosnia" and that "none of these points can be described as fundamentalist". Malcolm argues that Izetbegović's views were much more thoroughly expressed in his later book, Islam between East and West, where he presented Islam as a kind of spiritual and intellectual synthesis which included the values of Western Europe." In this book, Islam between East and West, Izetbegović claims that Islam, as a world-view, religion, and way of life, is vastly superior to all intellectual and spiritual alternatives, including philosophical, religious ethical and political ones.
---
Showing 1 to 1 of 1 (1 Pages)