Zmey Goryanin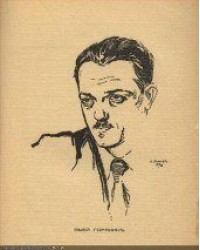 Svetozar (Svetlozar) Akendiev Dimitrov, known by the pseudonym Zmey Goryanin, is a Bulgarian writer.
Born January 11, 1905 in Rousse. He comes from a clerical family. Graduated from high school in his hometown (1924).
Until 1930 he was a clerk in Rousse at the Municipal Farm and in the printing house "Teacher". From 1930 he lived in Sofia. He worked as an accountant at the Food Directorate, later in the Directorate of Printing at the Ministry of Foreign Affairs and Religious Affairs.
Since 1942, he has devoted himself entirely to literary work. His first literary experiments date back to 1923 when he wrote his scholarly poems in the magazines "Svetli Zari", "Uchenicheska misal", "Izgrev". He collaborated with critical remarks, poems, humor and satire in "Hyperion", "Bulgarska Misal" magazines, also in the newspapers "Literaturen glas", "Svetlostrui", and in the weekly literature pages of daily newspapers like "Zora", "Vreme", "Pladne", "Zemedelsko zname" and others.
He is the author of stories, novels and plays mostly with historical themes. Most of his works represent the Bulgarian national liberation struggles. His first historical stories were printed in 1929 by the Plovdiv Juvenile Magazine "Detski zivot".
He also translates from Russian and French.
---
Showing 1 to 1 of 1 (1 Pages)